Artur
Szpilka
"Szpila The Pin"
Weight 231 lbs (105 kg)
Age 30
Home Wieliczka, POL
A power puncher with a come-forward style, southpaw Artur Szpilka is on a mission to become the first Polish heavyweight world champion. Read Bio
Last Fight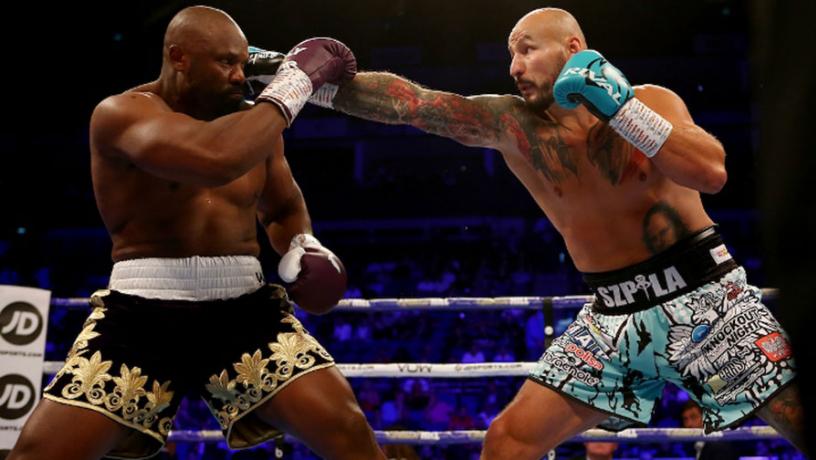 Jul 20, 2019 / O2 Arena, London, England
The former Heavyweight title contender suffered a second-round knockout to Dereck Chisora at O2 Arena in London.
Sign Up for
PBC

News

Get the latest fight announcements, fighter spotlights, and other PBC news delivered to your inbox.

Artur Szpilka News
Jun 21, 2017 / 12 Rounds With, Artur Szpilka
It's been nearly 18 months since Artur Szpilka came up short against Deontay Wilder in his first attempt to become the first Polish heavyweight champion—and now the powerful southpaw is ready to resume that pursuit.
Artur Szpilka Fights
LOSS

vs

Dereck

Chisora

30-9-0
Jul 20, 2019 • O2 Arena, Greenwich, London, United Kingdom
Dereck Chisora WINS against Artur Szpilka by KO in Round 2 of 10
Win

vs

Mariusz

Wach

33-3-0
Nov 10, 2018 • Arena Gliwice, Gliwice, Poland
Artur Szpilka WINS against Mariusz Wach by SD in Round 10 of 10
Win

vs

Dominick

Guinn

35-11-1
May 25, 2018 • Stadion Narodowy, Warsaw, Poland
Artur Szpilka WINS against Dominick Guinn by UD in Round 10 of 10
Jul 15, 2017 • Nassau Coliseum, Uniondale, New York, USA
Artur Szpilka LOSES to Adam Kownacki by TKO in Round 4 of 10
Jan 16, 2016 • Barclays Center, Brooklyn, New York, USA
Deontay Wilder WINS against Artur Szpilka by KO in Round 9 of 12
Win

vs

Yasmany

Consuegra

17-1-0
Aug 14, 2015 • Prudential Center, Newark, New Jersey, USA
Artur Szpilka WINS against Yasmany Consuegra by RTD in Round 2 of 8
Win

vs

Manuel

Quezada

29-9-0
Jun 12, 2015 • UIC Pavilion, Chicago, Illinois, USA
Artur Szpilka WINS against Manuel Quezada by RTD in Round 3 of 8
Apr 24, 2015 • UIC Pavilion, Chicago, Illinois, USA
Artur Szpilka WINS against Ty Cobb by TKO in Round 2 of 8
WIN

vs

Tomasz

Adamek

49-3-0
Nov 08, 2014 • Krakow Arena, Krakow, Poland
Tomasz Adamek LOSES to Artur Szpilka by UD in Round 10 of 10
LOSS

vs

Bryant

Jennings

17-0-0
Jan 25, 2014 • Madison Square Garden Theater, New York, New York, USA
Bryant Jennings WINS against Artur Szpilka by TKO in Round 10 of 10
Aug 16, 2013 • U.S. Cellular Field, Chicago, Illinois, USA
Artur Szpilka WINS against Mike Mollo by TKO in Round 5 of 10
Win

vs

Brian

Minto

37-5-0
Jun 15, 2013 • Hala Luczniczka, ul. Toruńska 59, Bydgoszcz, Poland
Artur Szpilka WINS against Brian Minto by UD in Round 10 of 10
Win

vs

Taras

Bidenko

28-5-0
Apr 20, 2013 • Hala na Podpromiu, Rzeszow, Poland
Artur Szpilka WINS against Taras Bidenko by RTD in Round 2 of 10
Feb 01, 2013 • UIC Pavilion, Chicago, Illinois, USA
Artur Szpilka WINS against Mike Mollo by KO in Round 6 of 8
Win

vs

Jameel

McCline

41-11-3
Jun 30, 2012 • Atlas Arena, Lodz, Poland
Artur Szpilka WINS against Jameel McCline by UD in Round 10 of 10
Win

vs

Gonzalo Omar

Basile

54-6-0
Jun 02, 2012 • Hala Luczniczka, ul. Toruńska 59, Bydgoszcz, Poland
Artur Szpilka WINS against Gonzalo Omar Basile by KO in Round 4 of 10
Win

vs

Terrance

Marbra

6-1-0
Mar 24, 2012 • Resorts Hotel & Casino, Atlantic City, New Jersey, USA
Artur Szpilka WINS against Terrance Marbra by TKO in Round 1 of 6
Win

vs

David

Saulsberry

7-3-0
Nov 05, 2011 • Mohegan Sun Casino, Uncasville, Connecticut, USA
Artur Szpilka WINS against David Saulsberry by KO in Round 2 of 6
Oct 15, 2011 • Spodek, Katowice, Poland
Artur Szpilka WINS against Owen Beck by RTD in Round 4 of 6
Win

vs

David

Williams

6-4-1
Jul 29, 2011 • Mohegan Sun Casino, Uncasville, Connecticut, USA
Artur Szpilka WINS against David Williams by KO in Round 1 of 4
Win

vs

Ramiz

Hadziaganovic

8-0-0
Jun 25, 2011 • Hala na Podpromiu, Rzeszow, Poland
Artur Szpilka WINS against Ramiz Hadziaganovic by KO in Round 1 of 4
Jul 31, 2009 • Seminole Hard Rock Hotel and Casino, Hollywood, Florida, USA
Artur Szpilka WINS against Jeremy May by KO in Round 1 of 4
Win

vs

Zoltan

Kallai

10-13-7
May 16, 2009 • Gran Teatro, Roma, Lazio, Italy
Artur Szpilka WINS against Zoltan Kallai by PTS in Round 4 of 4
Win

vs

Viktor

Szalai

10-17-1
Feb 28, 2009 • Lublin, Poland
Artur Szpilka WINS against Viktor Szalai by TKO in Round 1 of 4
Win

vs

Mihaly

Nemet

9-11-1
Nov 29, 2008 • Spodek, Katowice, Poland
Artur Szpilka WINS against Mihaly Nemet by TKO in Round 2 of 4
Oct 18, 2008 • MOSiR Hall, Zabrze, Poland
Artur Szpilka WINS against Senol Cente by UD in Round 4 of 4
Artur
Szpilka
"Szpila The Pin"
Born

April 12, 1989

Age

30

Country

Poland

Born in

Wieliczka

Trains in

Wieliczka
Stance

Southpaw

Rounds Boxed

118

KO Percentage

58%

Boxing Hero