Keith Thurman survived some scary moments against Josesito Lopez to retain his world welterweight title Saturday night on PBC on FOX.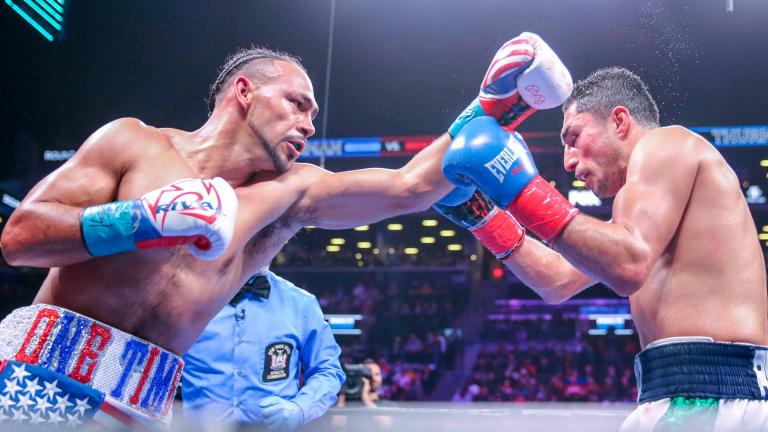 Some fighters just have it. That rare gift which allows them to do things most people can't.
No matter how long they're away from the ring. No matter who they oppose.
No matter if there is a trace of doubt in the deepest recesses of their mind.
Keith Thurman entered the ring versus Josesito Lopez with questions hanging over his head about whether he was fully healed from multiple injuries—and if he could overcome 22 months of rust.
But Thurman has that rare gift. It's why he survived a rocky seventh round versus Lopez on Saturday night, a frame where he was walloped by a Lopez left hook followed by a straight right.
Thurman, now (29-0, 22 KOs), bore through the toughest challenge of his career to defend the WBA world welterweight championship, beating Lopez (36-8, 19 KOs) by majority decision before 9,623 at Barclays Center in the main event of PBC on FOX.
Judges Tom Schreck (117-109) and Steve Weisfeld (115-111) both saw it for Thurman, while judge Don Ackerman had it a 113-113 draw.
The seventh was the closest "One Time" has ever come to losing a fight. It's a credit to Thurman that he got through it. And a great credit to Lopez for making it happen.
Early on, it was all Thurman. In the second, a beautiful counter left hook sent Lopez crashing to the canvas. From there, Thurman cruised along, occasionally eating a hard shot but administering far more of his own.
Then came the seventh. This time, it was a Lopez left hook, followed by a straight right, stunning Thurman. From there, Thurman went into survival mode. Lopez was relentless, winning the eighth as his pressure-cooker style led to more hard shots on Thurman's dome.
The champion showed his heart in the tenth, making Lopez miss and making him pay. The "Riverside Rocky" continued to come forward, but Thurman had regained control, landing the cleaner blows to win a tough but decisive decision in his first fight back in nearly two years.