Power-punching Subriel Matias showed why he's become one of boxing's most vaunted knockout artists as he stopped the previously unbeaten Jeremias Ponce after four rounds to win the vacant IBF 140-pound World Championship Saturday night live on SHOWTIME from The Armory in Minneapolis.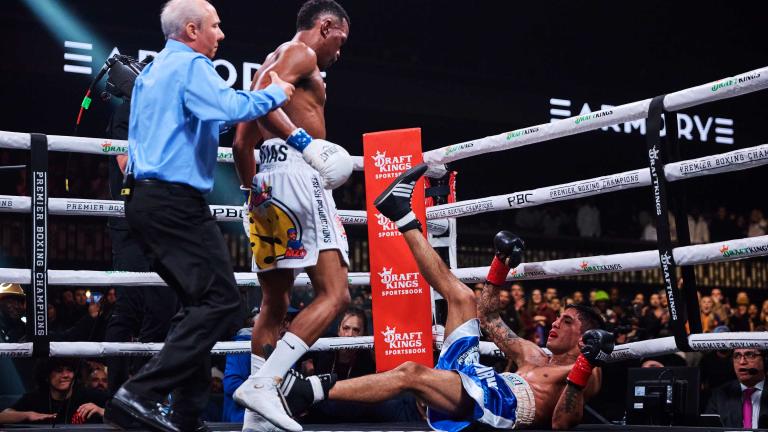 Puerto Rico's Matias (19-1, 19 KOs) captured the title in an electric firefight that saw the two top-ranked super lightweights throw over 800 combined punches in five rounds according to CompuBox. For Matias, the victory culminated a long journey that had him away from his family for nearly a year as he trained in Mexico for his first title opportunity.
"I'm on cloud nine right now," said Matias. "I don't think I've woken up from this dream. Maybe I can tell you how it feels tomorrow, but right now, it's a dream come true. I wanted to work him from the first round on, because I knew he wouldn't have the same power as me as the fight went on."
Ponce (30-1, 20 KOs) came out extremely aggressive and looked to swarm Matias early as he threw 96 punches in round one, out-landing Matias 28 to 11. Matias adjusted in round two, closing the distance and smothering Ponce to dull some of his attack while also finding spots for his own short power punches.
"I thought it was an even fight, but one punch can change everything and that's what happened," said Ponce. "Subriel is a tough, strong fighter and I knew what he was capable of."
After landing a powerful left hand that hurt Ponce late in round four, Matias returned determined and sharp in round five, landing 47% of his power punches over the three minutes. In the waning moments of the round, Matias landed the decisive blows, a series of head and body shots that badly hurt Matias and put him on the mat.
Ponce was able to make it to his stool, but his corner had seen enough and suggested that the fight be stopped, with the official result coming as a TKO at the end of round four.
"I'm fine now," said Ponce. "My team knows me, and they made the decision that they had to make. It hurts, but the most important thing is that I'm healthy."
"I wasn't really surprised," said Matias. "Once I saw how his corner reacted. I saw that (Ponce) was hurt in that fifth round. I thought that I was tentative in the first four rounds, so I came out with a different approach and mindset in the fifth."
After the fight, with his IBF belt in tow, Matias set his sights on a unification showdown against WBC 140-pound World Champion Regis Prograis.
"Regis Prograis, I'm coming for you," said Matias. "I'm the world champion now. I promise that I'm coming to hurt you. Prograis likes to talk the talk, but I have that same mentality. Let's see who prevails. I want him to see that there are people crazier than him in this sport."