Highlights
–Looking to counterpunch the aggressive Eddie Ramirez from the outset, Kevin Watts—with his back to the ropes—hit the bull's-eye with a short, quick right uppercut to the chin that dropped his opponent in Round 2.

–Ramirez shook off the first knockdown of his career and quickly went on the attack, outhustling and outgunning Watts to the head and body through the middle rounds.

–Ramirez pummeled Watts against the ropes in Round 6 and dropped him to a knee, but because the knockdown came on a punch to the back of the head, it was waved off. Then midway through Round 7, Ramirez again bullied Watts into the ropes and wailed away, with Watts falling to a knee and remaining down through the count of 10.
The ages, dimensions and professional records of Eddie Ramirez and Kevin Watts were nearly identical entering their 142-pound clash. But it didn't take long for Ramirez to separate himself with his power and an overwhelming, double-fisted body attack.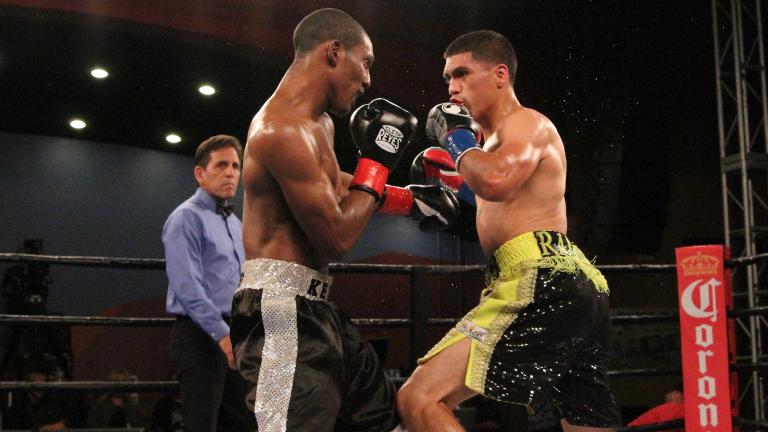 Ramirez rose from a second-round knockdown—the first of his career—and proceeded to hammer away at Watts until ultimately putting him down and out in Round 7 for his seventh stoppage victory in his last 10 fights.
In a matchup of 24-year-old, 5-foot-8 fighters, it was apparent from the start that Ramirez would be the high-volume aggressor and Watts would try to fend off his foe with his speed and counterpunching ability.
Watts' game plan worked early on, as he used his movement and sharp jab to keep Ramirez at bay. Then midway through the second round, with his back against the ropes and Ramirez bearing down on him, Watts fired a blistering, short right uppercut to the chin that dropped his opponent.
Unfortunately for Watts, aside from a solid counter right hand in Round 3 that buzzed Ramirez, that knockdown would prove to be the final highlight of his night.
With his legs fully under him, Ramirez resumed pressing the action in the middle rounds and scored with several clean power shots to the head. But it was a relentless body attack that did the telling damage, particularly in the fifth and sixth rounds when the Aurora, Illinois, native gained total control of the scheduled 10-round bout.
It was midway through Round 6 that a series of headshots sent Watts crumpling to his knees near the ropes. However, referee Ed Collantes waved off the knockdown, claiming Ramirez dropped Watts with an illegal blow to the back of the head.
Undeterred by that ruling, Ramirez resumed his attack during the decisive seventh, once again bullying Watts into the corner and unleashing a vicious flurry that sent the Southern California native to his knee for a second time.
This time, the knockdown was legit. And this time, Watts didn't get up, remaining on his right knee as Collantes reached the count of 10, the official end coming at the 1:37 mark.