In the pay-per-view opener, super featherweight contender Eduardo "Zurdito" Ramirez (27-2-3, 12 KOs) edged out a majority decision victory over Puerto Rico's Luis Melendez (17-2, 13 KOs) in their 10-round showdown.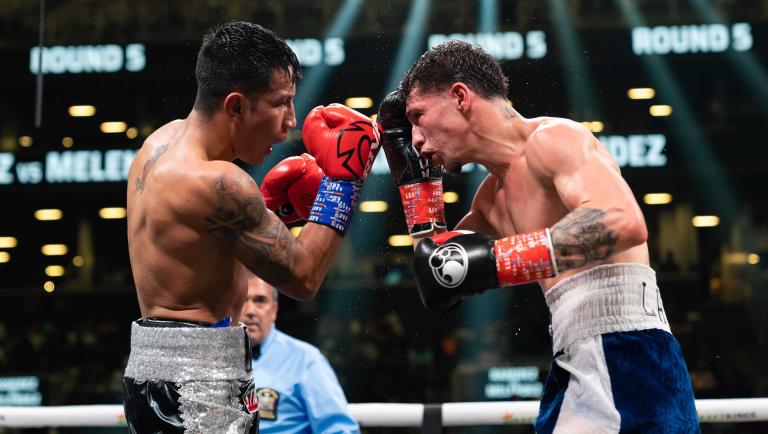 "The first few rounds were even, but after that he only had his jab," said Ramirez. "I was able to hurt him. He tried to win going backwards and that's no way to win."

"I felt I won the fight," said Melendez. "It's part of the game. You just have to go back and keep training and just come back better."

The contest was fought evenly throughout, with both fighters building momentum at certain moments, only to have their opponent fire back to keep the action squared. The punch stats reflected the close nature of the fight, with Melendez holding a 193 to 171 edge in punches landed, while Ramirez bested him in accuracy by a 31% to 29% margin.

Ramirez had his best moments of the fight pushing Melendez back on the ropes, buoyed by a significant advantage in body shots landed (79-16). Melendez was able to avoid taking too much damage with constant activity and sharp counter uppercuts that temporarily halted Ramirez's forward momentum.

In round eight, Melendez resorted to dropping his hands while on the ropes, in the hopes of catching a hard-charging Ramirez. However, Ramirez would go on to have his biggest advantage in punches landed in that frame (28-19). After a hard-fought round 10 that all three judges scored for Ramirez, he took home the victory with scores of 95-95, 98-92 and 96-94.

"I just have to go back to the drawing board and get better," said Melendez. "I'm still young. I felt I landed the crisper punches and out-boxed him. He never hurt me. Never."

"I want to fight for the world title next," said Ramirez. "I'm ready for any of the top fighters. I don't shy away from tough challenges."