In the telecast opener, the knockout artist Brandun Lee dealt with serious adversity for the first time in his career when he was dropped hard by a right hand in the third round.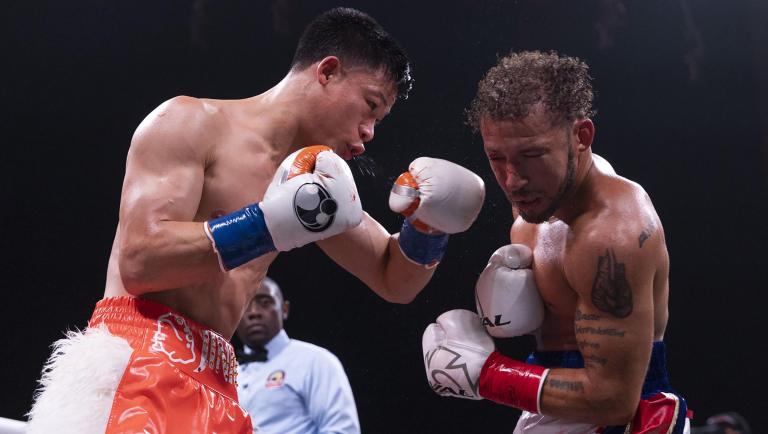 After rising and clearing the cobwebs, Lee relied on his boxing skills and savvy to capture his second straight 10-round decision against the tougher than expected Will Madera at a super lightweight bout waged at 143 pounds.
Despite the knockdown, Lee was otherwise dominant, winning by scores of 98-91 from the trio of judges Daniel Fitzgerald, Lisa Giampa and Mark Streisand to improve to 26-0 with 22 knockouts. Lee blamed overconfidence on getting caught in the third.
"I think I went in there a little too careless," Lee said. "I told myself this guy has nothing to give me, but boy was I wrong. I lost focus and overlooked him for that split second. I was cautious in the first couple rounds, the first three until I got hit. I need to keep my left hand up and remain on my toes at all times. I'm not fighting tomato cans anymore, the dude was like No. 17 in the U.S. and has some experience. You can't knock everyone out. I had to change the game plan. I went from moving forward to boxing. I got hit with a clean shot but I kept on going. I recovered. Like I said before, death before dishonor."
After bloodying Madera's eye in the second round with a dagger of a right hand and left uppercut, the first time that Madera (17-2-3, 10 KOs) had ever been cut, Lee was caught by a picture-perfect counter overhand right that landed squarely on Lee's chin, dropping the 23-year-old hard with around 20 seconds remaining in the third round, the first time in Lee's career he touched the canvas.
The sequence resulted from Lee throwing out a lazy jab and Madera countering over the top. Lee thudded hard to the canvas on his side, his equilibrium clearly off and he was on shaky legs as he rose and survived the remainder of the frame. Lee of La Quinta, Calif. out-landed Madera 168-127 in total punches and threw 431 jabs to survive the scare and move on in his promising career.
Afterward, Lee expressed a desire to face the winner of a match reportedly ordered for the interim super lightweight IBF title between Subriel Matias-Jeremias Ponce.