After 10 high-action rounds, Kevin Gonzalez retains his unblemished record with a unanimous decision win over rugged Emanuel Rivera in their super bantamweight bout.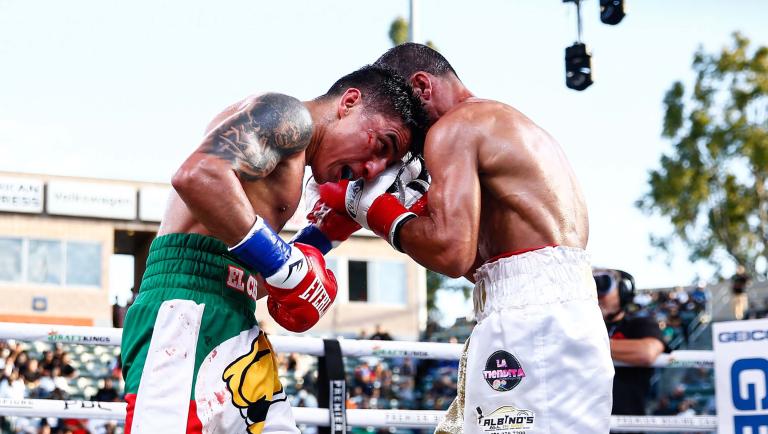 In an all-action fight from the opening bell in which over a thousand punches were thrown, Kevin González made a successful U.S. debut, winning a unanimous decision against tough Emanuel Rivera over 10 rounds at super bantamweight in the SHOWTIME opener.

The 24-year-old González displayed boxing skills and power to remain undefeated in an entertaining skirmish. Mexico's González won by scores of 96-94, 97-93 and 98-92 to move his record to 25-0-1 (13 KOs) while Puerto Rico's Rivera, 32, dropped to 19-3 (12 KOs) in a contest of southpaws.

"Rivera was a quality opponent," González said. "He and I had a classic Mexican versus Puerto Rican war and I hope that the fans enjoyed it. Bring on all the champions. I'm going to fight as soon as my promoter tells me to, in order to become the world champion I want to be."

Despite landing the harder shots and crisper combinations, González still had to overcome an opponent who bloodied his nose in the second, cut his lip in the third and bloodied his eye in the seventh from a series of jabs and winging shots after he tried to wage the bout on the inside.

González adjusted his attack and had success boxing Rivera and moving around the ring in the fourth, peppering him with rights and lefts. But Rivera, who took a four-year break from the sport in 2017 after losing to Nate Green, answered with a pair of short rights in the fourth to battle back.

The fight heated up in the sixth as both began to wing hard shots. Rivera landed a roundhouse right flush midway through the round; González responded by stunning him with a hard right hand in the final minute that made Rivera stumble backwards.

González ripped a multi-punch combination midway through the tenth that went unanswered, but Rivera dug a right to the body in the final minute that slowed González down and he followed it up with some volleys of his own. However, it was González who emerged victorious after a fun scuffle.