Highlights
–Despite a 10-month ring hiatus, Danny Garcia looked sharp and relaxed in the first round, landing several pinpoint left hooks and right hands on Samuel Vargas.

–Garcia landed a roundhouse right that caused Vargas to do a backward somersault on the canvas for a knockdown in the closing seconds of Round 2.

–Garcia trapped Vargas on the ropes late in the seventh and began wailing away until referee Gary Rosato stepped in and ended the bout just as Vargas' corner was about to throw in the towel.
Most boxing observers figured that Danny Garcia—fighting in front of his hometown fans for the first time in six years—would take apart Samuel Vargas. Garcia made sure not to disappoint.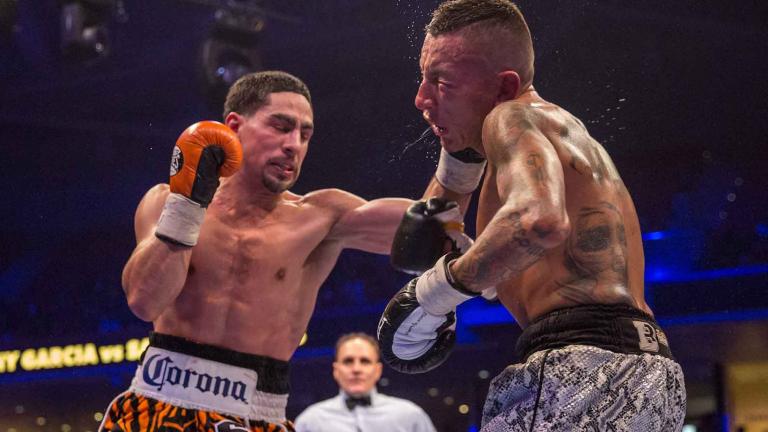 Dominating from the outset, Garcia floored Vargas with a vicious overhand right hand in the second round and cruised to a seventh-round TKO in a non-title bout.
Garcia was returning to the ring for the first time in almost 10 months, and he showed virtually no rust against the overmatched Vargas.
The 147-pound champion peppered his Colombia-born, Toronto-based opponent with several clean shots in a one-sided opening round before landing a sweeping right hand that sent Vargas crumbling to the canvas late in Round 2.
As he fell, Vargas literally went heels over head and took a full nine seconds before rising to his feet. He would've been wise to remain on his bended knee, as the ensuing five rounds represented little more than a showcase of Garcia's vast skills.
Garcia was barely touched as he picked Vargas apart and landed at will over the ensuing five rounds. Finally, late in Round 7, Garcia gave his hometown fans the finish they came to see.
Backing a bloodied Vargas into the ropes, Garcia unleashed a brutal series of punches that forced referee Gary Rosato to step in and stop the fight at the 2:17 mark. Rosato's decision came just as Vargas' corner climbed on the apron to throw in the towel.
With his lopsided victory, Garcia set up his March 4 showdown against fellow 147-pound champion Keith Thurman, who watched the bout ringside. Afterward, the two titleholders jawed with one another outside of the ring, then engaged in a heated, nose-to-nose confrontation inside the squared circle.