Melikuziev cruised on the judges' cards, winning by the tally of 99-91 three times.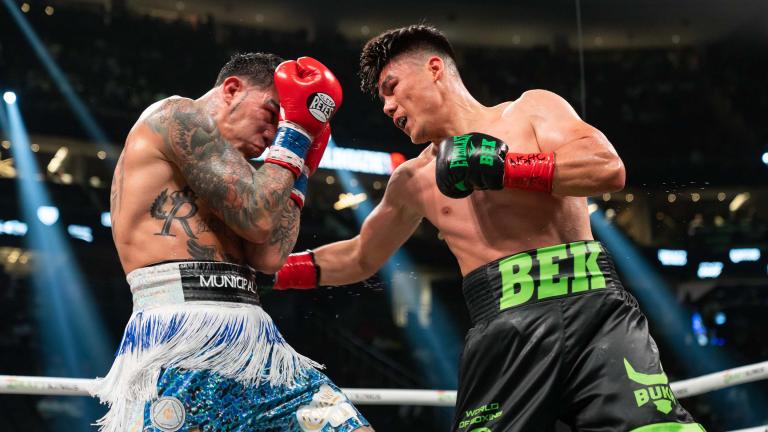 "In the first fight against Rosado, I underestimated my opponent," said Melikuziev. "This time, we put the work in during camp. We went through everything. This time, the goal was to showcase my skills, box and punish him as much as possible too."

In their first meeting in 2021, Rosado stopped the then unbeaten Melikuziev in his tracks with a sensational one-punch KO. In the rematch, Melikuziev was able to avoid a repeat misstep and controlled the bout throughout, out landing Rosado in every round.

"I tried, but I was a step behind," said Rosado. "'Father Time', eighteen years as a pro, but I was game. I walked to him, I boxed him, I tried everything but I was a step too slow. " was a split-second behind. He's fresh, he's young and I'm happy for him. I knocked him out bad in the first fight and he made adjustments."

Melikuziev appeared to have his opponent hurt in round five when a straight left wobbled Rosado and nearly sent him into the ropes. Rosado had more success in the second half of the fight, but took too much punishment on his way to attempting to close the distance.

The 27-year-old from Uzbekistan held a wide margin on power punches landed (129-31) and held Rosado to just a 17% connect rate. After the fight, Melikuziev relished in making up for his lone defeat, while Rosado stated his intentions on retiring after a long career.

"This was the fight that I wanted," said Melikuziev. "This is the fight that I felt like I made a mistake in the first one, and I had this opportunity for revenge on such a big card. It's a pleasure for me."

"I don't make any excuses," said Rosado. "I was ready. Now it's time to wrap it up and give my knowledge to younger fighters with management and training. I want to share my experience with them, and maybe do some more commentating."