Anthony Dirrell wins a unanimous technical decision victory over Denis Douglin after the fight went to the scorecards in the sixth round following an accidental headbutt.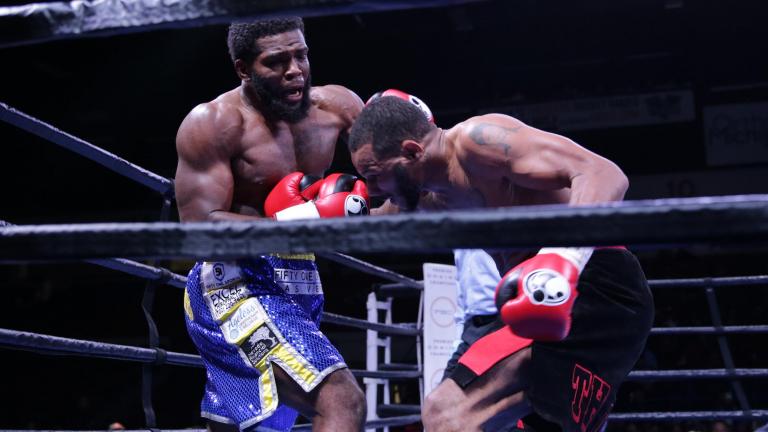 Dirrell (31-1-1, 24 knockouts) won a six-round technical decision against Denis Douglin on Friday night in the main event of Premier Boxing Champions in Dirrell's home of Flint, Michigan. Scores of the bout were 49-46, and 48-47 twice in favor of Dirrell.
The former 168-pound titlist had his opponent hurt in the first round of their bout, but the veteran gatekeeper escaped.
After holding on in the first, Douglin (20-6, 13 KOs) regained his senses and tried outfighting the much taller and longer Dirrell on the inside, gaining some success. Dirrell was able to catch Douglin coming in and make him think twice about implementing the inside fight.
Dirrell seemed intent on looking for one big punch rather than setting his shots up after hurting Douglin early. It allowed Douglin to regain his confidence by being busier and sticking his head in Dirrell's chest.
In the fourth round, the referee went to separate the two and both fighters threw on the break and got chippy with each other. It got the fight moving a bit more and Dirrell landed a big uppercut that startled Douglin up a bit. Douglin didn't back down and the two exchanged some monster hooks to end the round.
Dirrell mixed up his punches well, alternating from hooks to uppercuts, walking Douglin down in the process. Douglin was docked a point in the sixth round, though it's unclear why.
Dirrell ended up with a bad cut right above his left eye, and it was ruled to be from a headbutt. Blood poured into his eye and referee Frank Garza called up the doctor, who halted the bout on account of Dirrell's vision being impaired.