Highlights
–Abner Mares set the tone early as he countered Jesus Cuellar successfully throughout the opening round, especially with the left hook.

–Cuellar stepped up his attack into the middle rounds, but Mares continued to use his footwork to control the distance and his hand speed to counter the southpaw.

–Mares knocked Cuellar to the canvas early in the 11th with a straight right to the chin, then pummeled the champ in the corner later in the round to cap a magnificent performance.
Abner Mares promised to stick to his game plan against Jesus Cuellar after abandoning it in his last bout. Not only did he stay the course, he showed all his skills in doing so as he became a world champion for the fourth time.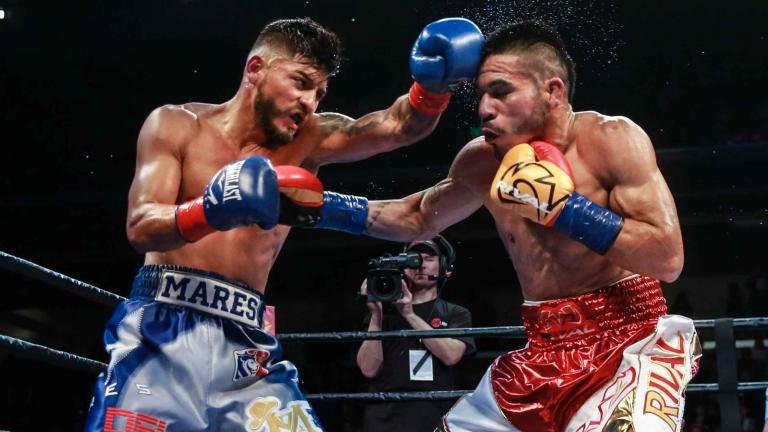 Mares outboxed Cuellar throughout the fight and dropped the defending champion in the 11th round to gain a split decision in their 126-pound title bout in Los Angeles.
Mares was coming off a 16-month layoff after dropping a majority decision to Leo Santa Cruz in a 126-pound title bout in August 2015, but he was sharp from the opening round against Cuellar, landing counter shots as he worked beautifully off his back foot.
After engaging in a slugfest with Santa Cruz, Mares fought a more disciplined fight against Cuellar as he continually kept the Argentine southpaw off balance with superior footwork and precise counterpunching.
It was the first fight for Mares under trainer Robert Garcia, who gained a measure of payback after being dismissed last year by Cuellar, whom Garcia trained for two years and helped win a world title.
Garcia also improved his record to 2-2 against trainer Freddie Roach, who began working with Cuellar five months ago.
Mares won his first world championship since beating Daniel Ponce De Leon for a 126-pound title in May 2013. He suffered his first career defeat in his next bout in August 2013, when Jhonny Gonzalez dethroned him with a first-round KO.
Mares, who also earned world titles at 118 and 122 pounds, said he wants the winner of the January 28 title rematch between Santa Cruz and Carl Frampton, who won a Fight of the Year candidate against Santa Cruz in July.
Cuellar had an 11-fight win streak snapped, experiencing his first loss since a seventh-round TKO to Oscar Escandon in October 2011.