Miguel Cruz had to see it for himself, and what he saw he didn't like. With remote in hand, he sat at the edge of his seat, pulling back, leaning forward and going through all the gyrations he knows he should have done as he watched the replay of his January fight against southpaw Alex Martin.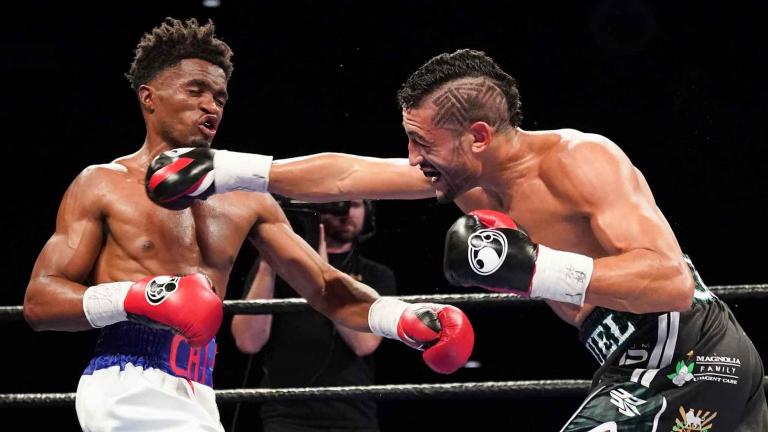 It then dawned on him with a chill, something no fighter likes to admit: He lost, even though he was awarded a split-decision victory.

Cruz vowed to himself that a second meeting would be different and he made sure of that, leaving no doubt in his mind nor on the judges' scorecards as he knocked Martin down twice and earned a 10-round unanimous decision in their 147-pound rematch in Bethlehem, Pennsylvania.

Fighting on the eve of his 27th birthday, Cruz won by scores of 96-92 on all three scorecards, with judges Steve Weisfeld, Kevin Morgan and David Braslow in complete agreement through the first six rounds before ultimately reaching the same conclusion.

After a quick exchange late in the first, Cruz unfurled a picturesque left hook on the southpaw's jaw, splashing him to the canvas with less than five seconds left in the round. Martin was still wobbly when he got back on his feet, as referee Gary Rosato reached a count of seven.
Fortunately for Martin, the bell then ended the round. But the 27-year-old Chicago resident was still in trouble.
Martin was dropped again in the fourth, though not with the force of the first knockdown. He argued to Rosato that he was hit in the back of the head, which he was, but the referee admonished him for ducking his head.

In the fifth, Martin landed a left well below Cruz's belt line and the Puerto Rican needed a couple of minutes to gather himself. The delay seemed to spark Martin, who then found a rhythm as he worked behind his jab.
While Cruz looked like he was slowing in Round 6—possibly as a residual effect of the low blow—Martin was on his toes and confident, and his punches became more crisp and accurate.
Martin continued his effectiveness into the eighth as he tagged Cruz with a counter left before following moments later with a left to the jaw, but he couldn't land anything significant enough to overcome his early deficit.
Instead, Cruz boxed effectively over the final two rounds as he maintained a wide edge over Martin to remain unbeaten.