Highlights
- Alexander Johnson clearly wanted to box Artur Beterbiev, but the Russian wasn't having any of it, setting the tone early by using a huge overhand right as cover to bull his way inside on Johnson and eat him up on the ropes.

- Johnson kept trying to get out of the way out of Beterbiev's piston-like right, but couldn't twist free of the attack. So it must have surprised him when Beterbiev caught him with a looping left that put him on the canvas in the fifth. Johnson took the standing eight-count. Seconds later, the right hand came out to play again. Beterbiev popped Johnson with a straight right that put him through the ropes.

- It was only a matter of time, and after another knockdown in the seventh, Beterbiev got his man, drilling Johnson with a left hook and finishing it with another overhand right to the back of the head as Johnson went through the ropes in practically the same spot as he did in the fifth.
The Artur Beterbiev Express is showing no signs of slowing down.
Make it a perfect 9-for-9 with nine knockouts as Alexander Johnson became the latest victim June 12 at the UIC Pavilion in Chicago.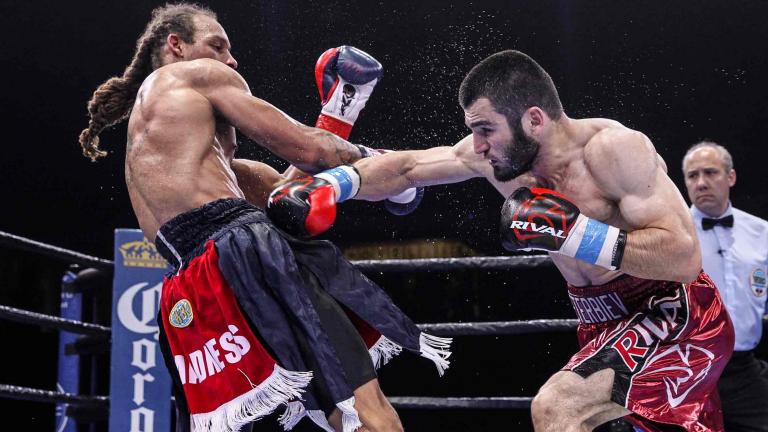 Beterbiev forced Johnson to fight in a phone booth, and that was exactly where the Marylander didn't want to be. It was the deepest Beterbiev has ever been taken into a fight, but the end result was still the same.
Using a vicious overhand right to hammer away at Johnson, Beterbiev knocked his man down twice in the fifth and a third time in the seventh before getting him for good at 1:38 of the round, clobbering him with a left hook and finishing him off with a booming overhand right that put Johnson through the ropes down and out.