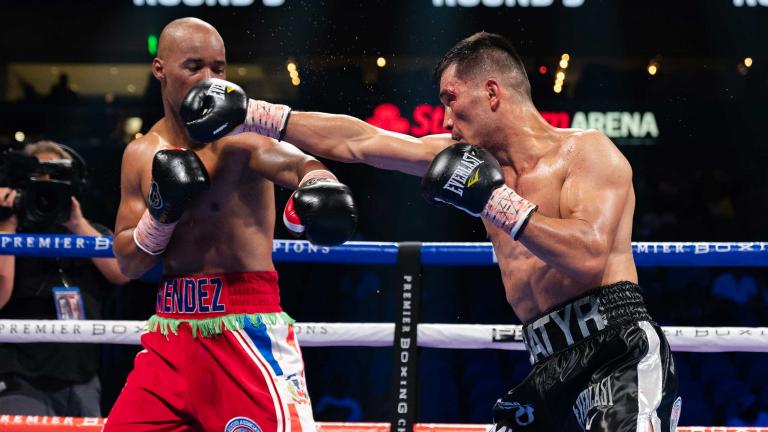 In the opening bout of the SHOWTIME PPV telecast, the hard-hitting Batyr Akhmedov (9-1, 8 KOs) scored a TKO victory over former world champion Argenis Mendez (25-7-3, 12 KOs) in a 12-round WBA Super Lightweight Title Eliminator. Mendez suffered a right hand injury and did not get off his stool to come out for the ninth round. The official time of the stoppage was 3:00 of round number eight.
"The fight went as planned," said Akhmedov, who overcame the first cut of his career over his left eye after an accidental head clash in the second round. "We were expecting a tough fight like that. I've been out of the ring for a long time, so I needed to get those rounds in. My plan is to fight for the world title next. We knew he would be uncomfortable to fight and tricky. He was headbutting and elbowing me. It was good experience for me."
In the battle of Olympians, it was Akhmedov who pressed the action and was far busier from the onset. He went to the body early and often, landing 57 body punches, wearing Mendez down as the rounds passed by. The 30-year-old Akhmedov landed 115 of the 306 power punches he threw, while the 34-year-old Mendez landed 84 of his 223 power punches, including just 13 body connects. At the time of the stoppage, Akhmedov was ahead on all three judges' scorecards.
"Mendez is a tough guy who fights top fighters," continued Akhmedov. "We knew it wouldn't be a walk in the park. When I hurt him, my corner was telling me to slow down and take my time before going for the knockout."
"I started feeling (injured) in the second and third round," said a disappointed Mendez. "My knuckles were broken and I couldn't throw a punch anymore after I cut him with my right hand in the first round. I tried to keep fighting from the fourth round on, but to no avail. It was useless."
With the win, Akhmedov keeps himself in the running for top fights in the deep 140-pound division. Mendez drops to 2-4-2 in last eight fights.