Highlights
–James DeGale gained the early edge in the clash of world champions when he dropped Badou Jack with a straight left late in the first round.

–Both fighters had their moments as the bout heated up in the middle rounds, with Jack landing brutal body shots and the switch-hitting DeGale scoring from all angles.

–Jack floored DeGale for the first time in his career in Round 12 with a sweeping right uppercut that caught the ducking Brit on the temple and sent him tumbling.
In a fight that was supposed to unify titles in the 168-pound division, the thrilling shootout between world champions Badou Jack and James DeGale settled nothing even though it delivered everything.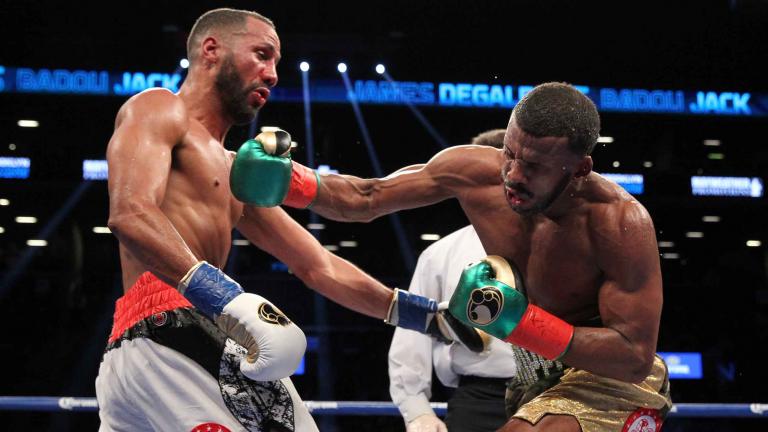 In a high-stakes, high-action bout that featured knockdowns by each fighter, Jack and DeGale fought to a majority draw in their world title bout at Barclays Center.
Jack countered a first-round knockdown by DeGale with a knockdown of his own in Round 12, but neither was enough to land a victory in an early Fight of the Year candidate that even had referee Arthur Mercante taking a punch.
Judge Glenn Feldman sided with DeGale, 114-112, but Julie Lederman and Steve Weisfeld both scored it 113-113 as both fighters retained their respective world titles for the fourth time.
Neither fighter was pleased with the outcome, but while DeGale lobbied afterward for a rematch, Jack expressed his desire to move up to 175 pounds after battling to a majority draw in his second straight title defense.
The 33-year-old Swedish native, who now lives in Las Vegas, knocked one of DeGale's front teeth out in the fight, and he outlanded the British 2008 Olympic gold medalist in overall punches (231 to 172) and power shots (202 to 168) as the boxers combined to throw more than 1,350 punches, according to CompuBox statistics.
The highly skilled fight was anything but one-sided, though, as DeGale took a decisive early lead through the first five rounds, sparked by the southpaw's knockdown late in Round 1 with a stiff, straight left hand that knocked Jack off his feet.
"The Ripper" began to make his charge in an electric Round 6 as he buried hooks into DeGale's body and landed a right uppercut that drove the Brit to the ropes. Even Mercante got into the action as Jack swung wide with a left hook at the bell and caught the referee, who was staggered but able to continue.
Jack continued his comeback as the action heated up throughout the middle rounds, working the Englishman's midsection and knocking his mouthpiece out in Round 8 with a fierce left uppercut that also dislodged a tooth.
Fighting on the road in North America for the fourth straight fight, DeGale continued to have his moments as he fired combinations from different angles and landed jarring uppercuts.
But after Round 9, during which DeGale lost his mouthpiece again, Jack had worked his way back to even on two of the judges' scorecards.
DeGale, 30, landed his best right hook of the fight in the 10th from a right-handed stance to cap a strong flurry as the fighters continued to give everything they had.
Midway through the final round, Jack followed up a solid left hook with a sweeping right uppercut to the temple of a ducking DeGale that floored the London native for the first time in his career.
Although he lost his mouthpiece again, DeGale was able to endure the round and even landed a hard right to Jack's head before the final bell.