Jarrett Hurd defends IBF and WBA title with KO of Jason Welborn, calls out Jermell Charlo for 154-pound title unification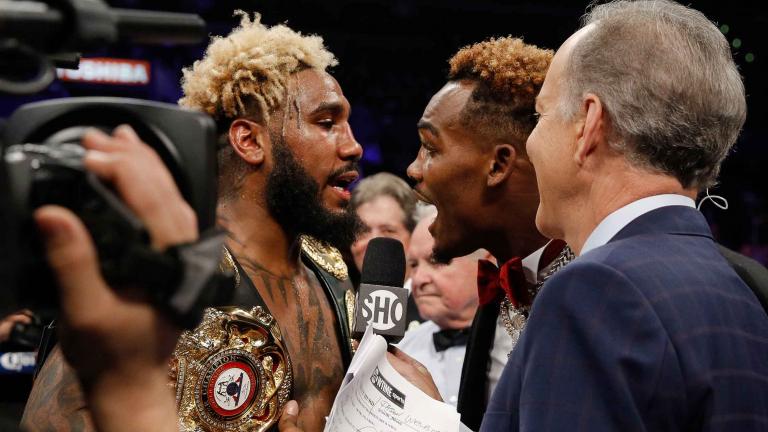 In the lead-up fight to Wilder-Fury, "Swift" Jarrett Hurd (23-0, 16 KOs) defended his 154-pound IBF and WBA world title belts with a fourth-round knockout against United Kingdom's James Welborn (24-7, 7 KOs), who was fighting for the first time on American soil.
Welborn was the aggressor in the first minute of the fourth round, sending Hurd to the ropes with punch after punch to the body and head. Suddenly realizing he might be in trouble, Hurd of Accokeek, Md., countered back from sudden adversity in dramatic fashion and sent Welborn back-tracking before a devastating body punch sent him to one knee. He was counted out at 1:55 by referee Lou Moret, who was officiating the final fight of his 30-plus year career.
After the fight, undefeated super welterweight Jermell Charlo entered the ring to challenge for Hurd's coveted belts. "We definitely want Charlo," Hurd told SHOWTIME reporter Jim Gray, saying the matchup would likely occur after one more fight. "I'm calling the shots. I'm No. ​1​ right now. When I say answer the phone, answer the phone. I got the date."
Charlo shot back. "This is easy money. I like those belts – they look real good on you. He said he wants another fight. I'm ready now."
Hurd, who unified the WBA and IBF belts by beating WBA champion Erislandy Lara in April in Las Vegas, was returning with a surgically repair left shoulder. He threw 118 jabs, more than half of the 220 punches he threw in the fight.
"I'm just coming off surgery so I wanted to see how I worked off the jab," Hurd said. "I felt good I was working behind the jab I got caught on the ropes and got caught with some shots and said 'that's enough. He got enough TV time.' I heard the crowd and I didn't want to get brave. So I turned it up and got the knockdown.​"​