Mario
Barrios
"El Azteca"
Weight 140 lbs (63.64 kg)
Age 22
Home San Antonio, Texas,
Since making his professional debut at age 18, exciting prospect Mario Barrios has been blasting opponents as he climbs the 140-pound ranks. Read Bio
Last Fight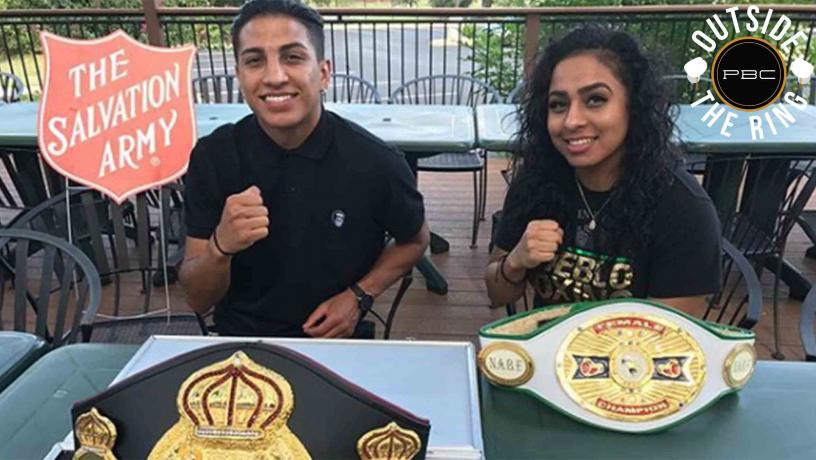 Mar 10, 2018 / The Freeman Coliseum, San Antonio, Texas
Mario Barrios remained undefeated by scoring his fifth straight stoppage win—a second round TKO of Eudy Bernardo in his hometown of San Antonio.
Sign Up for
PBC

News

Get the latest fight announcements, fighter spotlights, and other PBC news delivered to your inbox.

Mario Barrios News
Feb 12, 2018 / Mario Barrios, Alejandro Luna, Brandon Figueroa
Unbeaten 140-pound contender highlights the Showtime Extreme-televised undercard action March 10 on Mikey Garcia-Sergey Lipinets card from San Antonio, Texas.
Sep 21, 2017 / PBC Jabs, Erickson Lubin, Mario Barrios, Leduan Barthelemy
On this episode of PBC Jabs, Jordan Hardy checks in 154-pound contender Erickson Lubin ahead of his first world title fight against Jermell Charlo on October 14. Plus, we recap our September 19th FS1 show and preview our upcoming September 26th FS1 show.
Mario Barrios Fights
Win

vs

Naim

Nelson

13-3-1
Sep 19, 2017 • Sands Bethlehem Events Center, Bethlehem, Pennsylvania
Mario Barrios WINS against Naim Nelson by TKO in Round 7 of 10
Win

vs

Jose Luis

Rodriguez

21-9-0
Jun 11, 2017 • Pioneer Event Center, Lancaster, California, USA
Mario Barrios WINS against Jose Luis Rodriguez by KO in Round 7 of 10
Win

vs

Yardley Armenta

Cruz

21-7-0
Mar 04, 2017 • Barclays Center, Brooklyn, New York, USA
Mario Barrios WINS against Yardley Armenta Cruz by TKO in Round 6 of 8
Win

vs

Yardley

Suarez

20-6-0
Mar 04, 2017 • Barclays Center, Brooklyn, New York, USA
Mario Barrios WINS against Yardley Suarez by TKO in Round 6 of 8
Win

vs

Claudio Rosendo

Tapia

28-17-4
Dec 10, 2016 • USC Galen Center, Los Angeles, California, USA
Mario Barrios WINS against Claudio Rosendo Tapia by KO in Round 2 of 8
Jul 09, 2016 • Sun National Bank Center, Trenton, New Jersey
Mario Barrios WINS against Devis Boschiero by UD in Round 12 of 12
Win

vs

Edgar

Gabejan

27-32-6
Apr 16, 2016 • Barclays Center, Brooklyn, New York, USA
Mario Barrios WINS against Edgar Gabejan by UD in Round 8 of 8
Win

vs

Manuel

Vides

18-4-0
Dec 12, 2015 • AT&T Center, San Antonio, Texas, USA
Mario Barrios WINS against Manuel Vides by KO in Round 6 of 8
Win

vs

Enrique

Tinoco

15-2-2
Nov 10, 2015 • Music Hall, Austin, Texas, USA
Mario Barrios WINS against Enrique Tinoco by UD in Round 8 of 8
Win

vs

Eduardo

Rivera

9-2-2
Sep 26, 2015 • Legacy Arena, Birmingham, Alabama, USA
Mario Barrios WINS against Eduardo Rivera by KO in Round 1 of 8
Win

vs

Jose Cen

Torres

13-8-0
Sep 06, 2015 • American Bank Center, Corpus Christi, Texas, USA
Mario Barrios WINS against Jose Cen Torres by TKO in Round 4 of 8
Win

vs

Jose Arturo

Esquivel

9-2-0
Jul 18, 2015 • Don Haskins Convention Center, El Paso, Texas, USA
Mario Barrios WINS against Jose Arturo Esquivel by UD in Round 8 of 8
Win

vs

Jose Arturo Esquivel

Porras

9-2-0
Jul 18, 2015 • Don Haskins Convention Center, El Paso, Texas, USA
Mario Barrios WINS against Jose Arturo Esquivel Porras by UD in Round 8 of 8
Win

vs

Justin

Lopez

5-2-0
Mar 07, 2015 • MGM Grand, Las Vegas, Nevada, USA
Mario Barrios WINS against Justin Lopez by TKO in Round 3 of 6
Win

vs

Juan

Sandoval

7-14-1
Nov 20, 2014 • Sportsmans Lodge, Studio City, California, USA
Mario Barrios WINS against Juan Sandoval by UD in Round 4 of 4
Win

vs

Abraham

Rubio

3-4-1
Oct 08, 2014 • Beau Rivage Resort & Casino, Biloxi, Mississippi, USA
Mario Barrios WINS against Abraham Rubio by KO in Round 1 of 4
Win

vs

Salvador

Perez

2-4-2
Jul 25, 2014 • Fantasy Springs Casino, Indio, California, USA
Mario Barrios WINS against Salvador Perez by KO in Round 1 of 4
Win

vs

Jaxel

Marrero

1-2-1
May 10, 2014 • USC Galen Center, Los Angeles, California, USA
Mario Barrios WINS against Jaxel Marrero by UD in Round 4 of 4
Win

vs

Lyonell

Kelly

0-2-0
Mar 07, 2014 • Pala Casino Spa and Resort , Pala, California, USA
Mario Barrios WINS against Lyonell Kelly by UD in Round 4 of 4
Win

vs

Manuel

Rubalcava

1-6-0
Feb 10, 2014 • Cowboys Dance Hall, San Antonio, Texas, USA
Mario Barrios WINS against Manuel Rubalcava by UD in Round 4 of 4
Win

vs

Rigoberto

Moreno

0-1-0
Nov 11, 2013 • Cowboys Dance Hall, San Antonio, Texas, USA
Mario Barrios WINS against Rigoberto Moreno by TKO in Round 1 of 4
Mario
Barrios
"El Azteca"
Weight 140 lbs

(63.64 kg)
Born

May 18, 1995

Age

22

Country

USA

Born in

San Antonio, TX

Trains in

San Antonio

, TX
Stance

Orthodox

Rounds Boxed

99

KO Percentage

62%

Boxing Hero