Brandon
Figueroa
"The Heartbreaker"
Weight 122 lbs (55.45 kg)
Age 21
Home Weslaco, Texas,
The younger brother of a former world champion, unbeaten 122-pound prospect Brandon Figueroa is forging his own path toward boxing greatness. Read Bio
Last Fight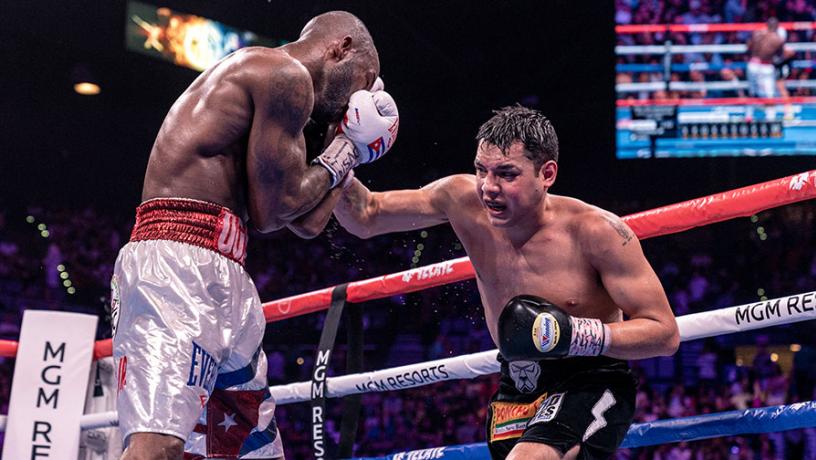 Mar 10, 2018 / The Freeman Coliseum, San Antonio, Texas
Brandon Figueroa continued on his unbeaten path with a seventh-round TKO of Giovanni Delgado in his native Texas.
Sign Up for
PBC

News

Get the latest fight announcements, fighter spotlights, and other PBC news delivered to your inbox.

Brandon Figueroa News
Mar 6, 2018 / Brandon Figueroa
The undefeated 122-pound prospect—who is the younger brother of former world champion Omar Figueroa Jr.—looks to continue his climb towards a belt of his own this Saturday night on the undercard of the Showtime-televised Mikey Garcia-Sergey Lipinets title bout.
Feb 12, 2018 / Mario Barrios, Alejandro Luna, Brandon Figueroa
Unbeaten 140-pound contender highlights the Showtime Extreme-televised undercard action March 10 on Mikey Garcia-Sergey Lipinets card from San Antonio, Texas.
Brandon Figueroa Fights
Win

vs

Giovanni

Delgado

16-6-0
Mar 10, 2018 • Freeman Coliseum, San Antonio, Texas, USA
Brandon Figueroa WINS against Giovanni Delgado by TKO in Round 7 of 8
Win

vs

Victor

Proa

28-4-2
Oct 14, 2017 • Livestock Showground, Mercedes, Texas, USA
Brandon Figueroa WINS against Victor Proa by TKO in Round 4 of 8
Win

vs

Fatiou

Fassinou

28-6-3
Jul 15, 2017 • Nassau Coliseum, Uniondale, New York, USA
Brandon Figueroa WINS against Fatiou Fassinou by UD in Round 8 of 8
Win

vs

Luis Fernando

Saavedra

7-2-0
May 02, 2017 • Sportsmans Lodge, Studio City, California, USA
Brandon Figueroa WINS against Luis Fernando Saavedra by UD in Round 8 of 8
Win

vs

Raul

Chirino

10-4-0
Feb 21, 2017 • Silver Street Studios, Houston, Texas, USA
Brandon Figueroa WINS against Raul Chirino by TKO in Round 4 of 6
Win

vs

Raymond

Chacon

6-20-0
Oct 08, 2016 • Sports Arena, Brownsville, Texas, USA
Brandon Figueroa WINS against Raymond Chacon by UD in Round 6 of 6
Win

vs

Adalberto

Zorrilla

7-1-0
Jul 23, 2016 • Scottish Rite Theatre, San Antonio, Texas, USA
Brandon Figueroa WINS against Adalberto Zorrilla by KO in Round 3 of 6
Win

vs

Oldier

Landin

4-1-1
Jun 25, 2016 • Scottish Rite Theatre, San Antonio, Texas, USA
Brandon Figueroa WINS against Oldier Landin by TKO in Round 2 of 6
Win

vs

Jonell

Nieves

6-2-0
May 28, 2016 • Cowboys Dance Hall, San Antonio, Texas, USA
Brandon Figueroa WINS against Jonell Nieves by TKO in Round 5 of 6
Win

vs

Jahaziel

Vazquez

0-3-0
Apr 23, 2016 • Events Center, Pharr, Texas, USA
Brandon Figueroa WINS against Jahaziel Vazquez by TKO in Round 2 of 4
Win

vs

Harold

Reyes

2-2-1
Jan 12, 2016 • Cowboys Dance Hall, San Antonio, Texas, USA
Brandon Figueroa WINS against Harold Reyes by TKO in Round 6 of 6
Win

vs

Francisco

Muro

2-1-0
Dec 12, 2015 • AT&T Center, San Antonio, Texas, USA
Brandon Figueroa WINS against Francisco Muro by UD in Round 4 of 4
Oct 10, 2015 • Boggus Ford Center, Pharr, Texas, USA
Brandon Figueroa WINS against Ramiro Ruiz by TKO in Round 4 of 4
Win

vs

Ricardo

Mena

0-1-0
Jun 26, 2015 • State Farm Arena, Hidalgo, Texas, USA
Brandon Figueroa WINS against Ricardo Mena by TKO in Round 1 of 4
Win

vs

Hector

Gutierrez

2-7-0
May 09, 2015 • State Farm Arena, Hidalgo, Texas, USA
Brandon Figueroa WINS against Hector Gutierrez by UD in Round 4 of 4
Brandon
Figueroa
"The Heartbreaker"
Weight 122 lbs

(55.45 kg)
Born

December 29, 1996

Age

21

Country

USA

Born in

Weslaco, TX

Trains in

Weslaco

, TX
Stance

Orthodox

Rounds Boxed

68

KO Percentage

67%

Boxing Hero