Weight 130 lbs (59.09 kg)
Age 22
Home Baltimore, Maryland,
A national Golden Gloves champion in 2012, Baltimore native Gervonta Davis has continued his domination in winning a 130-pound world title. Read Bio
Last Fight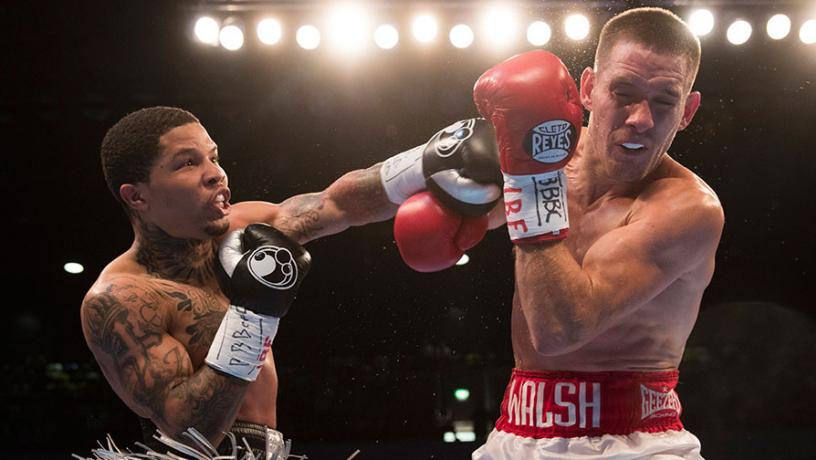 win
vs
Liam Walsh
May 20, 2017 / Copper Box Arena, Queen Elizabeth Olympic Park, London
Davis defended his world title for the first time with a punishing third-round TKO.
Sign Up for
PBC

News

Get the latest fight announcements, fighter spotlights, and other PBC news delivered to your inbox.

Latest
Jul 6, 2017 / Mario Barrios, David Benavidez, Gervonta Davis, Justin DeLoach, Errol Spence Jr.
Here's a list of some of PBC's top rising stars. Boxers on this list have been on a hot streak, like a slugger in baseball on a hitting streak or a running back in football who keeps posting 100-yard rushing games. Other than alphabetical, they're not ranked in any particular order. We'll leave that to you—the reader.
Fights
May 20, 2017 • Copper Box Arena, Queen Elizabeth Olympic Park, Hackney Wick, London, United Kingdom
Gervonta Davis WINS against Liam Walsh by TKO in Round 3 of 12
Jan 14, 2017 • Barclays Center, Brooklyn, New York
Jose Pedraza LOSES to Gervonta Davis by TKO in Round 7 of 12
Win

vs

Mario Antonio

Macias

28-18-0
Jun 03, 2016 • Seminole Hard Rock Hotel and Casino, Hollywood, Florida, USA
Gervonta Davis WINS against Mario Antonio Macias by KO in Round 1 of 8
Win

vs

Guillermo

Avila

16-5-0
Apr 01, 2016 • DC Armory, Washington, District of Columbia, USA
Gervonta Davis WINS against Guillermo Avila by TKO in Round 6 of 10
Win

vs

Luis

Sanchez

17-4-1
Dec 18, 2015 • Palms Casino Resort, Las Vegas, Nevada, USA
Gervonta Davis WINS against Luis Sanchez by KO in Round 9 of 10
Win

vs

Cristobal

Cruz

40-18-4
Oct 30, 2015 • The Venue at UCF, Orlando, Florida, USA
Gervonta Davis WINS against Cristobal Cruz by TKO in Round 3 of 8
Sep 12, 2015 • MGM Grand, Grand Garden Arena, Las Vegas, Nevada, USA
Gervonta Davis WINS against Recky Dulay by TKO in Round 1 of 6
Win

vs

Israel

Suarez

4-4-2
Feb 20, 2015 • CONSOL Energy Center, Pittsburgh, Pennsylvania, USA
Gervonta Davis WINS against Israel Suarez by KO in Round 1 of 6
Win

vs

German

Meraz

47-31-1
Oct 08, 2014 • Beau Rivage Resort & Casino, Biloxi, Mississippi, USA
Gervonta Davis WINS against German Meraz by UD in Round 6 of 6
Win

vs

Hector

Lopez

0-0-0
Aug 01, 2014 • Little Creek Casino Resort, Shelton, Washington, USA
Gervonta Davis WINS against Hector Lopez by KO in Round 1 of 4
Win

vs

Joshua

Arocho

3-9-4
May 16, 2014 • Foxwoods Resort, Mashantucket, Connecticut, USA
Gervonta Davis WINS against Joshua Arocho by RTD in Round 2 of 4
Win

vs

James

Franks

2-8-1
Dec 14, 2013 • Walter E. Washington Convention Center, Washington, District of Columbia, USA
Gervonta Davis WINS against James Franks by TKO in Round 2 of 0
Win

vs

Eric Jamar

Goodall

1-1-0
Oct 17, 2013 • Steel Stacks Arts Quest Center, Bethlehem, Pennsylvania, USA
Gervonta Davis WINS against Eric Jamar Goodall by TKO in Round 4 of 4
Win

vs

Rafael

Casias

4-7-0
Jul 20, 2013 • Coppin State University, Baltimore, Maryland, USA
Gervonta Davis WINS against Rafael Casias by TKO in Round 2 of 6
Win

vs

Jonathan

Gears

0-0-0
Jun 08, 2013 • EchoStage Lounge, Washington, District of Columbia, USA
Gervonta Davis WINS against Jonathan Gears by KO in Round 1 of 4
Apr 20, 2013 • Show Place Arena, Upper Marlboro, Maryland, USA
Gervonta Davis WINS against Jacob Ninow by TKO in Round 2 of 4
Win

vs

Desi

Williams

0-4-0
Feb 22, 2013 • DC Armory, Washington, District of Columbia, USA
Gervonta Davis WINS against Desi Williams by KO in Round 1 of 4
Weight 130 lbs

(59.09 kg)
Born

November 07, 1994

Age

22

Country

USA

Born in

Baltimore, MD

Trains in

Baltimore

, MD
Stance

Southpaw

Rounds Boxed

53

KO Percentage

94%

Boxing Hero