Weight 130 lbs (59.09 kg)
Age 22
Home Baltimore, Maryland,
A national Golden Gloves champion in 2012, Baltimore native Gervonta Davis has continued his domination in winning a 130-pound world title. Read Bio
Last Fight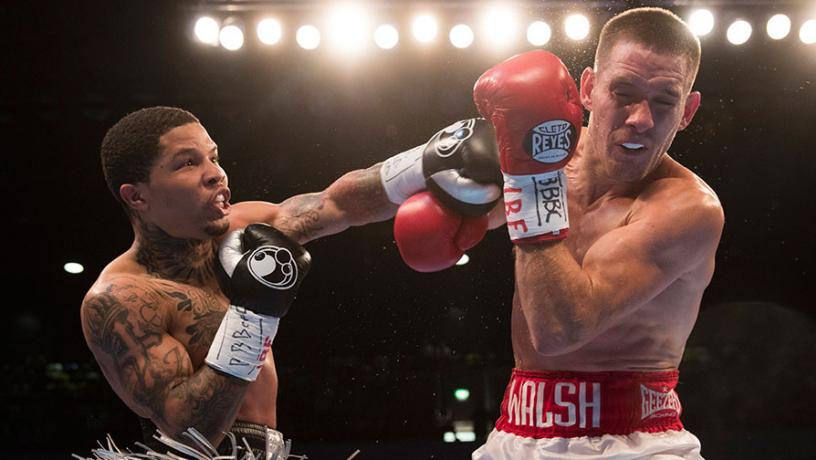 win
vs
Liam Walsh
May 20, 2017 / Copper Box Arena, Queen Elizabeth Olympic Park, London
Davis defended his world title for the first time with a punishing third-round TKO.
Sign Up for
PBC

News

Get the latest fight announcements, fighter spotlights, and other PBC news delivered to your inbox.

Latest
May 18, 2017 / Mario Barrios, Gervonta Davis, Justin DeLoach, Robert Easter Jr, Mikey Garcia, Jarrett Hurd, Sergey Lipinets, Erickson Lubin
Here's a list of some of PBC's top rising stars. Boxers on this list have been on a hot streak, like a slugger in baseball on a hitting streak or a running back in football who keeps posting 100-yard rushing games. Other than alphabetical, they're not ranked in any particular order. We'll leave that to you—the reader.
Jan 14, 2017 / Pedraza vs Davis, Jose Pedraza, Gervonta Davis
Gervonta Davis predicted he would knock out 130-pound champion Jose Pedraza on Saturday night, but was noncommittal on when the stoppage would occur, suggesting it could happen in "the eighth, nine or 10th round." In the end, the 5-foot-6 "Tank" sold himself a little short.
Jan 13, 2017 / Pedraza vs Smith, Jose Pedraza, Gervonta Davis
Gervonta Davis has heard all about how he's never faced an opponent the caliber of 130-pound world champion Jose Pedraza. While he doesn't necessarily disagree, he believes his own abilities are being sold short.
Fights
May 20, 2017 • Copper Box Arena, Queen Elizabeth Olympic Park, Hackney Wick, London, United Kingdom
Gervonta Davis WINS against Liam Walsh by TKO in Round 3 of 12
Jan 14, 2017 • Barclays Center, Brooklyn, New York
Jose Pedraza LOSES to Gervonta Davis by TKO in Round 7 of 12
Win

vs

Mario Antonio

Macias

28-18-0
Jun 03, 2016 • Seminole Hard Rock Hotel and Casino, Hollywood, Florida, USA
Gervonta Davis WINS against Mario Antonio Macias by KO in Round 1 of 8
Win

vs

Guillermo

Avila

16-5-0
Apr 01, 2016 • DC Armory, Washington, District of Columbia, USA
Gervonta Davis WINS against Guillermo Avila by TKO in Round 6 of 10
Win

vs

Luis

Sanchez

17-4-1
Dec 18, 2015 • Palms Casino Resort, Las Vegas, Nevada, USA
Gervonta Davis WINS against Luis Sanchez by KO in Round 9 of 10
Win

vs

Cristobal

Cruz

40-18-4
Oct 30, 2015 • The Venue at UCF, Orlando, Florida, USA
Gervonta Davis WINS against Cristobal Cruz by TKO in Round 3 of 8
Sep 12, 2015 • MGM Grand, Grand Garden Arena, Las Vegas, Nevada, USA
Gervonta Davis WINS against Recky Dulay by TKO in Round 1 of 6
Win

vs

Israel

Suarez

4-4-2
Feb 20, 2015 • CONSOL Energy Center, Pittsburgh, Pennsylvania, USA
Gervonta Davis WINS against Israel Suarez by KO in Round 1 of 6
Win

vs

German

Meraz

47-31-1
Oct 08, 2014 • Beau Rivage Resort & Casino, Biloxi, Mississippi, USA
Gervonta Davis WINS against German Meraz by UD in Round 6 of 6
Win

vs

Hector

Lopez

0-0-0
Aug 01, 2014 • Little Creek Casino Resort, Shelton, Washington, USA
Gervonta Davis WINS against Hector Lopez by KO in Round 1 of 4
Win

vs

Joshua

Arocho

3-9-4
May 16, 2014 • Foxwoods Resort, Mashantucket, Connecticut, USA
Gervonta Davis WINS against Joshua Arocho by RTD in Round 2 of 4
Win

vs

James

Franks

2-8-1
Dec 14, 2013 • Walter E. Washington Convention Center, Washington, District of Columbia, USA
Gervonta Davis WINS against James Franks by TKO in Round 2 of 0
Win

vs

Eric Jamar

Goodall

1-1-0
Oct 17, 2013 • Steel Stacks Arts Quest Center, Bethlehem, Pennsylvania, USA
Gervonta Davis WINS against Eric Jamar Goodall by TKO in Round 4 of 4
Win

vs

Rafael

Casias

4-7-0
Jul 20, 2013 • Coppin State University, Baltimore, Maryland, USA
Gervonta Davis WINS against Rafael Casias by TKO in Round 2 of 6
Win

vs

Jonathan

Gears

0-0-0
Jun 08, 2013 • EchoStage Lounge, Washington, District of Columbia, USA
Gervonta Davis WINS against Jonathan Gears by KO in Round 1 of 4
Apr 20, 2013 • Show Place Arena, Upper Marlboro, Maryland, USA
Gervonta Davis WINS against Jacob Ninow by TKO in Round 2 of 4
Win

vs

Desi

Williams

0-4-0
Feb 22, 2013 • DC Armory, Washington, District of Columbia, USA
Gervonta Davis WINS against Desi Williams by KO in Round 1 of 4
Weight 130 lbs

(59.09 kg)
Born

November 07, 1994

Age

22

Country

USA

Born in

Baltimore, MD

Trains in

Baltimore

, MD
Stance

Southpaw

Rounds Boxed

53

KO Percentage

94%

Boxing Hero