Weight 240 lbs (109.09 kg)
Age 39
Home Miami, Florida, USA
A longtime member of the Cuban national team, powerful southpaw Luis Ortiz is ready to show that he's the world's most dangerous heavyweight. Read Bio
Last Fight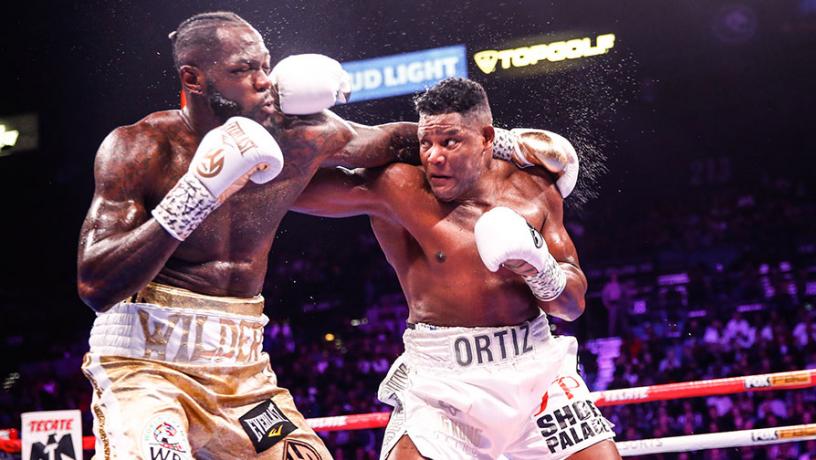 Jul 28, 2018 / Staples Center, Los Angeles, California
Luis Ortiz bounced back from his first loss, scoring a devastating second round knockout of former world title challenger Razvan Cojanu.
Sign Up for
PBC

News

Get the latest fight announcements, fighter spotlights, and other PBC news delivered to your inbox.

Luis Ortiz News
Oct 8, 2018 / Hot List, Shawn Porter, Jamal James, Eleider Alvarez, Carl Frampton, Mikey Garcia, Mario Barrios, Fabian Maidana, Luis Ortiz, Errol Spence Jr., Adam Kownacki
Here's a list of some of PBC's top rising stars. Boxers on this list are on a hot streak, like a slugger in baseball on a hitting streak or a running back in football who keeps posting 100-yard rushing games. They're not ranked in any particular order. We'll leave that to you—the reader.
Jul 26, 2018 / Luis Ortiz
Cuban heavyweight contender wants to make up for the only blemish on his record with an emphatic showing in the ring this Saturday night on Showtime.
Luis Ortiz Fights
Win

vs

Razvan

Cojanu

16-3-0
Jul 28, 2018 • Staples Center, Los Angeles, California, USA
Luis OrtizLL WINS against Razvan CojanuRR by KO in Round 2 of 10
Mar 03, 2018 • Barclays Center, Brooklyn, New York
Deontay WilderDD WINS against Luis OrtizLL by TKO in Round 9 of 12
Win

vs

Daniel

Martz

16-5-1
Dec 08, 2017 • Hialeah Park Racing & Casino, Hialeah, Florida, USA
Luis OrtizLL WINS against Daniel MartzDD by KO in Round 2 of 10
Dec 10, 2016 • Manchester Arena (formerly M.E.N Arena), Manchester, Lancashire, United Kingdom
Luis OrtizLL WINS against David AllenDD by TKO in Round 7 of 8
Win

vs

Malik

Scott

25-0-0
Nov 12, 2016 • Salle des Étoiles, Monte Carlo, Monaco
Luis OrtizLL WINS against Malik ScottMM by UD in Round 12 of 12
Win

vs

Tony

Thompson

24-0-0
Mar 05, 2016 • DC Armory, Washington, District of Columbia, USA
Luis OrtizLL WINS against Tony ThompsonTT by KO in Round 6 of 12
Win

vs

Bryant

Jennings

19-1-0
Dec 19, 2015 • Turning Stone Resort & Casino, Verona, New York, USA
Luis OrtizLL WINS against Bryant JenningsBB by TKO in Round 7 of 12
Win

vs

Matias Ariel

Vidondo

20-1-1
Oct 17, 2015 • Madison Square Garden, New York, New York, USA
Luis OrtizLL WINS against Matias Ariel VidondoMM by KO in Round 3 of 12
Win

vs

Byron

Polley

27-18-1
Jun 20, 2015 • Bell Centre, Montreal, Quebec, Canada
Luis OrtizLL WINS against Byron PolleyBB by TKO in Round 1 of 8
No Contest

vs

Lateef

Kayode

20-0-0
Sep 11, 2014 • Hard Rock Hotel and Casino, The Joint, Las Vegas, Nevada, USA
Luis OrtizLL Lateef KayodeLL by NC in Round 1 of 12
Win

vs

Monte

Barrett

35-10-2
Apr 03, 2014 • Fantasy Springs Casino, Indio, California, USA
Luis OrtizLL WINS against Monte BarrettMM by KO in Round 4 of 10
Win

vs

Alex

Gonzales

20-8-0
Nov 26, 2013 • BB&t Center, Sunrise, Florida, USA
Luis OrtizLL WINS against Alex GonzalesAA by KO in Round 1 of 10
No Contest

vs

Joseph

Rabotte

11-25-1
Jul 20, 2013 • The Outdoor Miage, Greensboro, North Carolina, USA
Luis OrtizLL Joseph RabotteJJ by NC in Round 3 of 10
Win

vs

Santiago De

Paula

13-9-1
Nov 16, 2012 • Club el Millon, Santo Domingo, Dominican Republic
Luis OrtizLL WINS against Santiago De PaulaSS by TKO in Round 4 of 10
Win

vs

Juan Carlos Antonio

Maldonado

0-0-0
Nov 09, 2012 • Gimnasio Joan Guzman, Guachupita, Dominican Republic
Luis OrtizLL WINS against Juan Carlos Antonio MaldonadoJJ by TKO in Round 1 of 6
Win

vs

Jose Santos

Peralta

1-2-0
Oct 30, 2012 • Gimnasio Joan Guzman, Guachupita, Dominican Republic
Luis OrtizLL WINS against Jose Santos PeraltaJJ by KO in Round 1 of 10
Win

vs

Walter

Palacios

20-17-2
May 26, 2012 • Polideportivo Espana, Managua, Nicaragua
Luis OrtizLL WINS against Walter PalaciosWW by TKO in Round 2 of 6
Win

vs

Epifanio

Mendoza

32-13-1
Feb 10, 2012 • Community Center, Palm Bay, Florida, USA
Luis OrtizLL WINS against Epifanio MendozaEE by DQ in Round 7 of 10
Nov 25, 2011 • Coliseo Carlos 'Teo' Cruz, Santo Domingo, Dominican Republic
Luis OrtizLL WINS against Frank MolaFF by RTD in Round 2 of 10
Win

vs

Arron

Lyons

12-10-1
Aug 12, 2011 • Seminole Hard Rock Hotel and Casino, Hollywood, Florida, USA
Luis OrtizLL WINS against Arron LyonsAA by RTD in Round 7 of 10
Win

vs

Henry

Saenz

22-8-1
Jul 30, 2011 • Gimnasio Nacional, San Jose, Costa Rica
Luis OrtizLL WINS against Henry SaenzHH by TKO in Round 3 of 11
WIN

vs

Luis Andres

Pineda

22-9-1
Jun 17, 2011 • Arena Roberto Duran, Panama City, Panama
Luis Andres PinedaLL LOSES to Luis OrtizLL by KO in Round 6 of 9
Win

vs

Jason

Barnett

12-13-0
Jun 03, 2011 • A La Carte Event Pavilion, Tampa, Florida, USA
Luis OrtizLL WINS against Jason BarnettJJ by TKO in Round 1 of 6
Win

vs

Corey

Winfield

4-7-0
May 21, 2011 • Rec Center, Wilson, North Carolina, USA
Luis OrtizLL WINS against Corey WinfieldCC by KO in Round 3 of 8
Win

vs

Bert

Cooper

38-22-0
Apr 23, 2011 • Miami-Dade County Fair & Expo, Miami, Florida, USA
Luis OrtizLL WINS against Bert CooperBB by TKO in Round 2 of 10
Win

vs

Jerry

Butler

8-10-1
Apr 02, 2011 • Roger Dean Stadium, Jupiter, Florida, USA
Luis OrtizLL WINS against Jerry ButlerJJ by TKO in Round 3 of 6
Win

vs

Ruben

Rivera

3-5-0
Jan 28, 2011 • Double Tree Westshore Hotel, Tampa, Florida, USA
Luis OrtizLL WINS against Ruben RiveraRR by DQ in Round 5 of 8
Win

vs

Francisco

Alvarez

12-1-0
Dec 07, 2010 • Seminole Hard Rock Hotel and Casino, Hollywood, Florida, USA
Luis OrtizLL WINS against Francisco AlvarezFF by TKO in Round 8 of 8
Oct 19, 2010 • Seminole Hard Rock Hotel and Casino, Hollywood, Florida, USA
Luis OrtizLL WINS against Zack PageZZ by TKO in Round 8 of 8
Win

vs

Kendrick

Releford

22-13-2
Aug 24, 2010 • Seminole Hard Rock Hotel and Casino, Hollywood, Florida, USA
Luis OrtizLL WINS against Kendrick RelefordKK by UD in Round 8 of 8
Win

vs

Charles

Davis

19-19-2
Jun 15, 2010 • Seminole Hard Rock Hotel and Casino, Hollywood, Florida, USA
Luis OrtizLL WINS against Charles DavisCC by TKO in Round 4 of 6
Feb 16, 2010 • Seminole Hard Rock Hotel and Casino, Hollywood, Florida, USA
Luis OrtizLL WINS against Lamar DavisLL by TKO in Round 1 of 4
Weight 240 lbs

(109.09 kg)
Born

March 29, 1979

Age

39

Country

Cuba

Born in

Camaguey

Trains in

Miami

, FL
Stance

Southpaw

Rounds Boxed

134

KO Percentage

78%

Boxing Hero