Weight 175 lbs (79.55 kg)
Age 34
Home Montreal, Quebec, CAN
Canada-based Colombian Eleider Alvarez had been on the verge of a light heavyweight title shot for years, and now he can finally call himself a world champion. Read Bio
Last Fight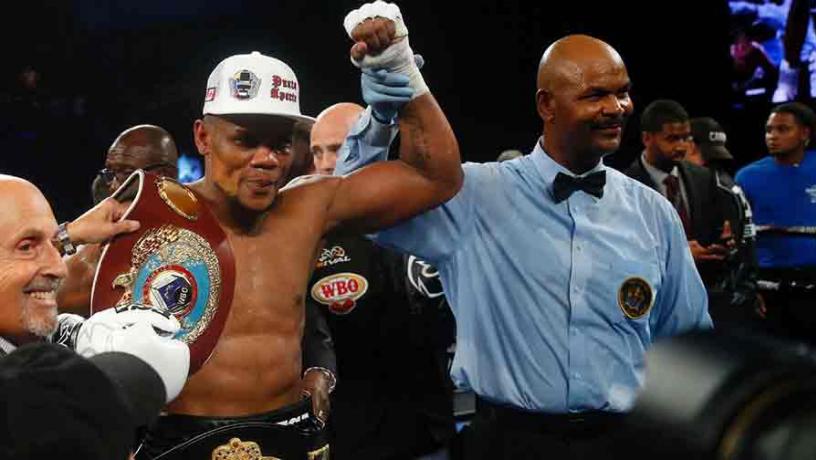 Aug 04, 2018 / Hard Rock Hotel & Casino, Atlantic City
Eleider Alvarez became a 175-pound world champion via a three-knockdown victory over WBO titleholder Sergey Kovalev.
Sign Up for
PBC

News

Get the latest fight announcements, fighter spotlights, and other PBC news delivered to your inbox.

Eleider Alvarez News
Aug 9, 2018 / PBC Jabs, Andre Berto, Eleider Alvarez
With his August 4th victory over Devon Alexander, Andre Berto likely put his name back on the radar of the top fighters in the welterweight division.
Aug 8, 2018 / Eleider Alvarez
After years of frustration of sitting on the sidelines as a mandatory challenger, Canada-based Colombian talks about finally claiming a world championship with his huge win over Sergey Kovalev.
Eleider Alvarez Fights
WIN

vs

Sergey

Kovalev

32-2-1
Aug 04, 2018 • Hard Rock Hotel & Casino, Atlantic City, New Jersey, USA
Sergey Kovalev LOSES to Eleider Alvarez by TKO in Round 7 of 12
Win

vs

Jean

Pascal

31-4-1
Jun 03, 2017 • Bell Centre, Montreal, Quebec, Canada
Eleider Alvarez WINS against Jean Pascal by MD in Round 12 of 12
Feb 24, 2017 • Centre Videotron, Quebec City, Quebec, Canada
Eleider Alvarez WINS against Lucian Bute by TKO in Round 5 of 12
Win

vs

Norbert

Dabrowski

19-5-1
Dec 10, 2016 • Montreal Casino, Montreal, Quebec, Canada
Eleider Alvarez WINS against Norbert Dabrowski by UD in Round 10 of 10
Win

vs

Robert

Berridge

27-4-1
Jul 29, 2016 • Centre Videotron, Quebec City, Quebec, Canada
Eleider Alvarez WINS against Robert Berridge by UD in Round 10 of 10
Win

vs

Isaac

Chilemba

24-2-2
Nov 28, 2015 • Centre Videotron, Quebec City, Quebec, Canada
Eleider Alvarez WINS against Isaac Chilemba by MD in Round 12 of 12
Win

vs

Isidro Ranoni

Prieto
Aug 15, 2015 • Bell Centre, Montreal, Canada
Eleider Alvarez WINS against Isidro Ranoni Prieto by UD in Round 12 of 12
Win

vs

Anatoliy

Dudchenko

19-3-0
Jun 12, 2015 • UIC Pavilion, Chicago, Illinois, USA
Eleider Alvarez WINS against Anatoliy Dudchenko by TKO in Round 2 of 10
Win

vs

Ryno

Liebenberg

16-0-0
Oct 25, 2014 • Salle des Étoiles, Monte Carlo, Monaco
Eleider Alvarez WINS against Ryno Liebenberg by TKO in Round 7 of 12
Win

vs

Alexander

Johnson

15-1-0
May 24, 2014 • Bell Centre, Montreal, Quebec, Canada
Eleider Alvarez WINS against Alexander Johnson by UD in Round 10 of 10
Win

vs

Edison

Miranda

35-8-0
Sep 28, 2013 • Bell Centre, Montreal, Quebec, Canada
Eleider Alvarez WINS against Edison Miranda by UD in Round 10 of 10
Win

vs

Nicholson

Poulard

19-3-0
Mar 22, 2013 • Bell Centre, Montreal, Quebec, Canada
Eleider Alvarez WINS against Nicholson Poulard by TKO in Round 3 of 12
Win

vs

Danny

McIntosh

13-3-0
Dec 14, 2012 • Bell Centre, Montreal, Quebec, Canada
Eleider Alvarez WINS against Danny McIntosh by KO in Round 8 of 10
Win

vs

Daniel

Regi

15-6-0
Oct 12, 2012 • Bell Centre, Montreal, Quebec, Canada
Eleider Alvarez WINS against Daniel Regi by TKO in Round 2 of 8
Win

vs

Emiliano

Cayetano

21-3-0
Dec 10, 2011 • Bell Centre, Montreal, Quebec, Canada
Eleider Alvarez WINS against Emiliano Cayetano by KO in Round 1 of 12
Win

vs

Michael

Walchuk

9-4-0
Oct 20, 2011 • Bell Centre, Montreal, Quebec, Canada
Eleider Alvarez WINS against Michael Walchuk by RTD in Round 6 of 10
Win

vs

David

Whittom

11-14-1
May 21, 2011 • Bell Centre, Montreal, Quebec, Canada
Eleider Alvarez WINS against David Whittom by UD in Round 4 of 4
Win

vs

Ernesto

Zamora

18-21-1
Apr 08, 2011 • Bell Centre, Montreal, Quebec, Canada
Eleider Alvarez WINS against Ernesto Zamora by TKO in Round 3 of 4
Win

vs

Willard

Lewis

17-21-3
Oct 03, 2009 • Montreal Casino, Montreal, Quebec, Canada
Eleider Alvarez WINS against Willard Lewis by TKO in Round 2 of 4
Win

vs

Jesse

Sanders

14-6-2
Aug 28, 2009 • Montreal Casino, Montreal, Quebec, Canada
Eleider Alvarez WINS against Jesse Sanders by KO in Round 1 of 4
Weight 175 lbs

(79.55 kg)
Born

April 08, 1984

Age

34

Country

Colombia

Born in

Apartado

Trains in

Montreal

, Quebec
Stance

Orthodox

Rounds Boxed

161

KO Percentage

50%

Boxing Hero