Weight 118 lbs (53.64 kg)
Age 24
Home Tijuana, Baja California, MEX
Mexico's Luis Nery is just 24, but has already experienced winning and losing a world title. After a successful U.S. debut on FOX PPV, "Pantera" is determined to get a belt back. Read Bio
Last Fight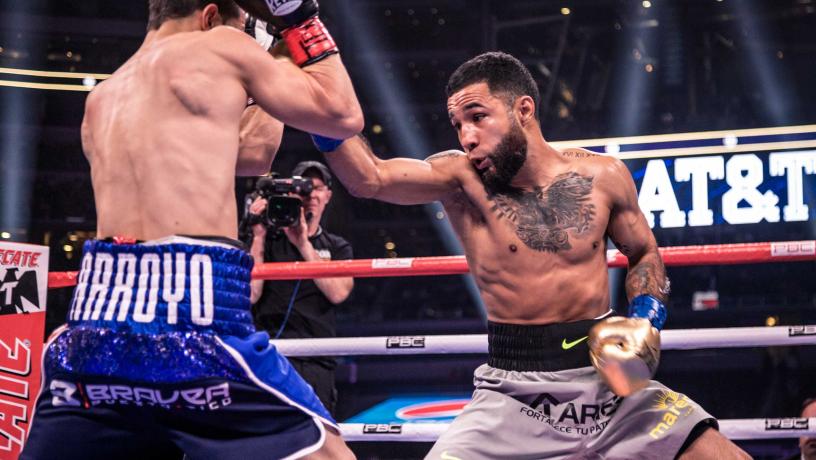 Mar 16, 2019 / AT&T Stadium, Arlington, Texas
Former Bantamweight Champ Luis Nery scored a successful U.S. debut—stopping fellow former titleholder McJoe Arroyo in the fourth round of their FOX PPV bout in Dallas.
Sign Up for
PBC

News

Get the latest fight announcements, fighter spotlights, and other PBC news delivered to your inbox.

Luis Nery News
Mar 17, 2019 / Spence vs Garcia, Errol Spence Jr., Mikey Garcia, David Benavidez, J'Leon Love, Luis Nery, Chris Arreola, Charles Martin
Fighting in front of hometown fans, IBF World Welterweight Champion turned in a sterling performance, winning a wide points verdict over a game Mikey Garcia on FOX PPV.
Mar 13, 2019 / Luis Nery
The former world bantamweight champion is no stranger to adversity. On Saturday night, he begins the next chapter of his life versus McJoe Arroyo on PBC on FOX.
Luis Nery Fights
Win

vs

McJoe

Arroyo

18-2-0
Mar 16, 2019 • AT&T Stadium, Arlington, Texas, USA
Luis Nery WINS against McJoe Arroyo by RTD in Round 4 of 10
Win

vs

Renson

Robles

13-5-0
Dec 01, 2018 • Arena Pavillón del Norte, Saltillo, Coahuila de Zaragoza, Mexico
Luis Nery WINS against Renson Robles by TKO in Round 7 of 10
Win

vs

Jason

Canoy

27-8-2
Oct 06, 2018 • Gasmart Stadium, Tijuana, Baja California, Mexico
Luis Nery WINS against Jason Canoy by KO in Round 3 of 12
Win

vs

Shinsuke

Yamanaka

27-1-2
Mar 01, 2018 • Kokugikan, Tokyo, Japan
Luis Nery WINS against Shinsuke Yamanaka by TKO in Round 2 of 12
Win

vs

Arthur

Villanueva

31-2-0
Nov 04, 2017 • Gasmart Stadium, Tijuana, Baja California, Mexico
Luis Nery WINS against Arthur Villanueva by TKO in Round 6 of 10
Win

vs

Shinsuke

Yamanaka

27-0-2
Aug 15, 2017 • Shimazu Arena, Kyoto, Kyoto, Japan
Luis Nery WINS against Shinsuke Yamanaka by TKO in Round 4 of 12
Win

vs

Jesus

Martinez

23-1-0
Mar 11, 2017 • Arena Ciudad de Mexico, Mexico City, Distrito Federal, Mexico
Luis Nery WINS against Jesus Martinez by RTD in Round 4 of 12
Win

vs

Raymond

Tabugon

18-6-1
Dec 17, 2016 • El Foro Chiapas, Tuxtla Gutierrez, Chiapas, Mexico
Luis Nery WINS against Raymond Tabugon by TKO in Round 4 of 10
Win

vs

Richie

Mepranum

31-5-1
Oct 22, 2016 • Auditorio Municipal Fausto Gutiérrez Moreno, Tijuana, Baja California, Mexico
Luis Nery WINS against Richie Mepranum by TKO in Round 2 of 10
Win

vs

David

Sanchez

29-3-2
Jul 30, 2016 • Auditorio Municipal, Tijuana, Baja California, Mexico
Luis Nery WINS against David Sanchez by RTD in Round 4 of 10
Win

vs

Martin

Casillas

15-6-1
Apr 16, 2016 • Gimnasio Olímpico Juan de la Barrera, Mexico City, Distrito Federal, Mexico
Luis Nery WINS against Martin Casillas by UD in Round 10 of 10
Win

vs

Humberto

Morales

14-13-4
Jan 30, 2016 • Centro De Convenciones, Rosarito, Baja California, Mexico
Luis Nery WINS against Humberto Morales by TKO in Round 5 of 10
Win

vs

John Mark

Apolinario

17-5-3
Sep 26, 2015 • Centro Convenciones, Puerto Penasco, Sonora, Mexico
Luis Nery WINS against John Mark Apolinario by TKO in Round 2 of 10
Win

vs

Jether

Oliva

22-2-2
Feb 28, 2015 • Centro De Convenciones, Rosarito, Baja California, Mexico
Luis Nery WINS against Jether Oliva by RTD in Round 4 of 10
Win

vs

Carlos

Fontes

20-2-1
Dec 06, 2014 • Centro de Usos Multiples, Hermosillo, Sonora, Mexico
Luis Nery WINS against Carlos Fontes by TKO in Round 8 of 8
Win

vs

Victor

Mendez

19-1-2
Aug 30, 2014 • Centro de Usos Multiples, Hermosillo, Sonora, Mexico
Luis Nery WINS against Victor Mendez by SD in Round 8 of 8
Win

vs

Jose

Estrella

13-4-1
Jun 27, 2014 • Hipódromo Caliente, Arena Tecate, Tijuana, Baja California, Mexico
Luis Nery WINS against Jose Estrella by RTD in Round 5 of 8
Win

vs

Pedro Antonio

Rodriguez

6-9-0
Apr 11, 2014 • Hipódromo Caliente, Arena Tecate, Tijuana, Baja California, Mexico
Luis Nery WINS against Pedro Antonio Rodriguez by KO in Round 3 of 8
Win

vs

Javier

Cifuentes

1-0-0
Feb 15, 2014 • Palenque de la Feria Mesoamericana, Tapachula, Chiapas, Mexico
Luis Nery WINS against Javier Cifuentes by KO in Round 4 of 6
Dec 13, 2013 • Casino Hipodromo Agua Caliente, Tijuana, Baja California, Mexico
Luis Nery WINS against Adan Osuna by TKO in Round 1 of 8
Win

vs

Oswaldo

Castro

14-5-2
Oct 26, 2013 • Caliente Racetrack, Tijuana, Baja California, Mexico
Luis Nery WINS against Oswaldo Castro by UD in Round 8 of 8
Win

vs

Saul Eduardo

Hernandez

3-4-0
Aug 23, 2013 • Forum Tecate, Tijuana, Baja California, Mexico
Luis Nery WINS against Saul Eduardo Hernandez by TKO in Round 5 of 6
Win

vs

Rafael

Alvarado

2-0-0
Jun 14, 2013 • Casino Hipodromo Agua Caliente, Tijuana, Baja California, Mexico
Luis Nery WINS against Rafael Alvarado by TKO in Round 2 of 6
Win

vs

Marino

Canete

0-2-0
Apr 10, 2013 • Salon Las Pulgas, Tijuana, Baja California, Mexico
Luis Nery WINS against Marino Canete by TKO in Round 2 of 4
Win

vs

Leonardo

Reyes

0-2-0
Feb 16, 2013 • Auditorio Municipal Fausto Gutiérrez Moreno, Tijuana, Baja California, Mexico
Luis Nery WINS against Leonardo Reyes by TKO in Round 1 of 4
Win

vs

Joan

Sandoval

1-0-1
Nov 28, 2012 • Salon Las Pulgas, Tijuana, Baja California, Mexico
Luis Nery WINS against Joan Sandoval by UD in Round 4 of 4
Win

vs

Carlos

Castaneda

4-0-0
Sep 20, 2012 • Salon Las Pulgas, Tijuana, Baja California, Mexico
Luis Nery WINS against Carlos Castaneda by UD in Round 4 of 4
Win

vs

Javier

Miranda

0-0-0
Jun 07, 2012 • Salon Las Pulgas, Tijuana, Baja California, Mexico
Luis Nery WINS against Javier Miranda by UD in Round 4 of 4
Win

vs

Jose Guadalupe

Salgado

0-0-0
May 05, 2012 • Auditorio Municipal, Tijuana, Baja California, Mexico
Luis Nery WINS against Jose Guadalupe Salgado by TKO in Round 1 of 4
Weight 118 lbs

(53.64 kg)
Born

December 12, 1994

Age

24

Country

Mexico

Born in

Tijuana, Baja California

Trains in

Tijuana

, Baja California
Stance

Southpaw

Rounds Boxed

121

KO Percentage

79%

Boxing Hero