Weight 126 lbs (57.27 kg)
Age 32
Home Barry, Wales, GBR
After becoming a 126-pound world champion fighting solely in the U.K., Welshman Lee Selby has his sights set on becoming a star in the U.S. Read Bio
Last Fight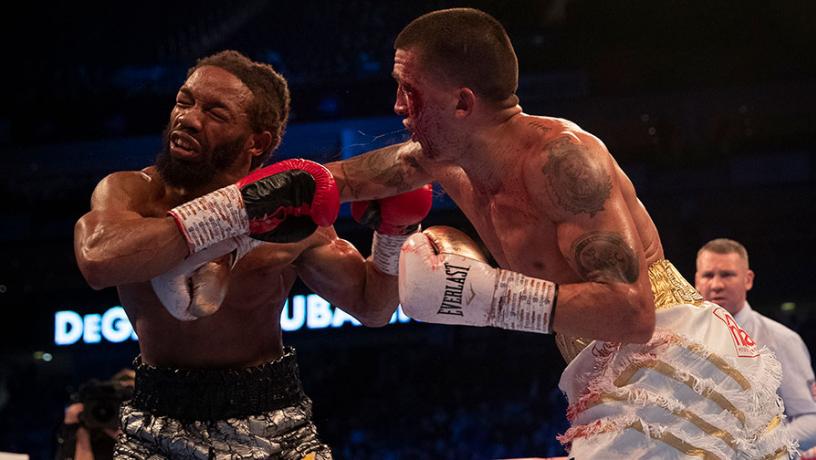 Feb 23, 2019 / O2 Arena, London, England
Former World Champion Lee Selby bounced back with a UD win over Omar Douglas in his lightweight debut.
Sign Up for
PBC

News

Get the latest fight announcements, fighter spotlights, and other PBC news delivered to your inbox.

Lee Selby News
Jan 14, 2019 / Lee Selby
Selby will move up two weight classes to face hard-hitting American Omar Douglas in a lightweight title fight on the James DeGale vs Chris Eubank Jr. card at The O2 in London.
Aug 9, 2017 / 12 Rounds With, Lee Selby
Every boxer has to make sacrifices and overcome obstacles to become a world champion, but very few champions have had to defend their crown while carrying as much heartache as Lee Selby.
Lee Selby Fights
Feb 23, 2019 • O2 Arena, Greenwich, London, United Kingdom
Lee Selby WINS against Omar Douglas by UD in Round 12 of 12
Loss

vs

Josh

Warrington

26-0-0
May 19, 2018 • Elland Road Football Ground, Leeds, Yorkshire, United Kingdom
Lee Selby LOSES to Josh Warrington by SD in Round 12 of 12
Win

vs

Eduardo

Ramirez

20-0-3
Dec 09, 2017 • Copper Box Arena, Queen Elizabeth Olympic Park, Hackney Wick, London, United Kingdom
Lee Selby WINS against Eduardo Ramirez by UD in Round 12 of 12
Win

vs

Jonathan Victor

Barros

41-4-1
Jul 15, 2017 • Wembley Arena, Wembley, London, United Kingdom
Lee Selby WINS against Jonathan Victor Barros by UD in Round 12 of 12
Win

vs

Andoni

Gago

16-2-2
Mar 04, 2017 • O2 Arena (Millenium Dome), Greenwich, London, United Kingdom
Lee Selby WINS against Andoni Gago by TKO in Round 9 of 10
Apr 09, 2016 • O2 Arena, London
Lee Selby WINS against Eric Hunter by UD in Round 12 of 12
Oct 14, 2015 • Gila River Arena, Glendale, Arizona
Lee Selby WINS against Fernando Montiel by UD in Round 12 of 12
WIN

vs

Evgeny

Gradovich

19-0-1
May 30, 2015 • O2 Arena (Millenium Dome), Greenwich, London, United Kingdom
Evgeny Gradovich LOSES to Lee Selby by TD in Round 8 of 12
Win

vs

Joel

Brunker

27-0-0
Oct 11, 2014 • O2 Arena (Millenium Dome), Greenwich, London, United Kingdom
Lee Selby WINS against Joel Brunker by TKO in Round 9 of 12
Win

vs

Romulo

Koasicha

21-3-0
May 17, 2014 • Motorpoint Arena, Cardiff, Wales, United Kingdom
Lee Selby WINS against Romulo Koasicha by UD in Round 12 of 12
Win

vs

Rendall

Munroe

27-3-1
Feb 01, 2014 • Motorpoint Arena, Cardiff, Wales, United Kingdom
Lee Selby WINS against Rendall Munroe by TKO in Round 6 of 12
Oct 05, 2013 • O2 Arena (Millenium Dome), Greenwich, London, United Kingdom
Lee Selby WINS against Ryan Walsh by UD in Round 12 of 12
WIN

vs

Viorel

Simion

16-0-0
Jul 13, 2013 • Craven Park Stadium, Hull, Yorkshire, United Kingdom
Viorel Simion LOSES to Lee Selby by UD in Round 12 of 12
Win

vs

Corey

McConnell

11-0-1
Apr 20, 2013 • Winter Gardens, Blackpool, Lancashire, United Kingdom
Lee Selby WINS against Corey McConnell by TKO in Round 5 of 12
Win

vs

Martin

Lindsay

20-1-0
Feb 09, 2013 • Odyssey Arena, Belfast, Northern Ireland, United Kingdom
Lee Selby WINS against Martin Lindsay by UD in Round 12 of 12
Win

vs

Patrick

Okine

11-1-1
May 25, 2012 • Newport Centre, Newport, Wales, United Kingdom
Lee Selby WINS against Patrick Okine by TKO in Round 5 of 12
Win

vs

John

Simpson

22-8-0
Dec 14, 2011 • York Hall, Bethnal Green, London, United Kingdom
Lee Selby WINS against John Simpson by TKO in Round 5 of 12
WIN

vs

Stephen

Smith

12-0-0
Sep 17, 2011 • Olympia, Liverpool, Merseyside, United Kingdom
Stephen Smith LOSES to Lee Selby by TKO in Round 8 of 12
Win

vs

James

Ancliff

11-14-2
Jul 30, 2011 • Pill Millennium Centre, Newport, Wales, United Kingdom
Lee Selby WINS against James Ancliff by TKO in Round 6 of 10
Win

vs

Youssef Al

Hamidi

8-32-2
Apr 27, 2011 • Olympia, Liverpool, Merseyside, United Kingdom
Lee Selby WINS against Youssef Al Hamidi by PTS in Round 6 of 6
Oct 30, 2010 • Newport Centre, Newport, Wales, United Kingdom
Dai Davies LOSES to Lee Selby by KO in Round 2 of 10
Jun 25, 2010 • Brentwood Centre, Brentwood, Essex, United Kingdom
Ben Jones LOSES to Lee Selby by PTS in Round 6 of 6
Win

vs

Jimmy

Briggs

2-15-0
Nov 20, 2009 • Newport Centre, Newport, Wales, United Kingdom
Lee Selby WINS against Jimmy Briggs by PTS in Round 4 of 4
Aug 10, 2009 • Jumeirah Carlton Tower Hotel, Knightsbridge, London, United Kingdom
Lee Selby WINS against Ian Bailey by PTS in Round 6 of 6
LOSS

vs

Samir

Mouneimne

1-0-1
May 29, 2009 • Fenton Manor Sports Complex, Stoke-on-Trent, Staffordshire, United Kingdom
Samir Mouneimne WINS against Lee Selby by PTS in Round 4 of 4
Win

vs

Johnny

Greaves

1-26-0
Mar 13, 2009 • Newport Centre, Newport, Wales, United Kingdom
Lee Selby WINS against Johnny Greaves by PTS in Round 6 of 6
Win

vs

Craig

Johnson

9-3-0
Feb 27, 2009 • Metrodome, Barnsley, Yorkshire, United Kingdom
Lee Selby WINS against Craig Johnson by PTS in Round 4 of 4
Win

vs

Peter

Buckley

31-255-12
Oct 24, 2008 • Newport Centre, Newport, Wales, United Kingdom
Lee Selby WINS against Peter Buckley by PTS in Round 6 of 6
Jul 12, 2008 • Newport Centre, Newport, Wales, United Kingdom
Lee Selby WINS against Sid Razak by PTS in Round 6 of 6
Weight 126 lbs

(57.27 kg)
Born

February 14, 1987

Age

32

Country

United Kingdom

Born in

Barry, Wales

Trains in

Barry

, Wales
Stance

Orthodox

Rounds Boxed

231

KO Percentage

31%

Boxing Hero