Kiko
Martinez
"La Sensacion"
Weight 126 lbs (57.27 kg)
Age 33
Home Alicante, Comunidad Valenciana, ESP
A former world champion and three-time European champ at 122 pounds, Spanish slugger Kiko Martinez in now in pursuit of another title at 126. Read Bio
Last Fight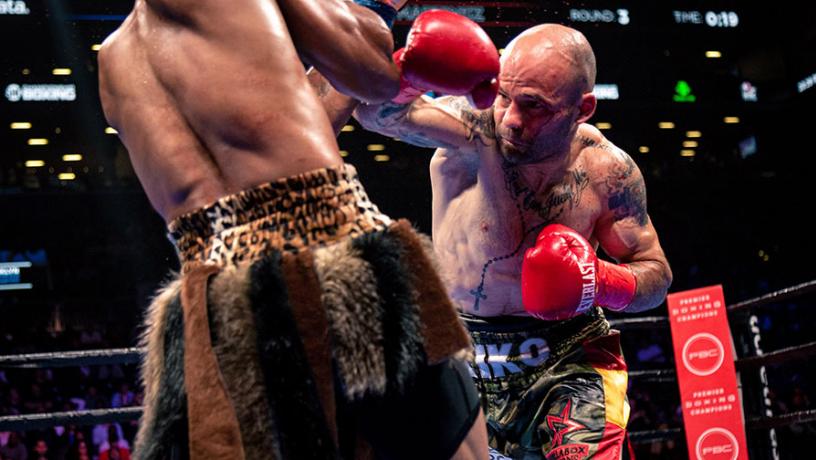 May 18, 2019 / Barclays Center, Brooklyn, New York
Kiko Martinez suffered a fifth-round stoppage to Gary Russell Jr. in a WBC featherweight title fight in Brooklyn.
Sign Up for
PBC

News

Get the latest fight announcements, fighter spotlights, and other PBC news delivered to your inbox.

Kiko Martinez News
May 16, 2019 / Wilder vs Breazeale, Gary Russell Jr, Kiko Martinez
WBC World Featherweight Champion Gary Russell Jr. figures to use his speed and skill to overcome the size and strength of Kiko Martinez Saturday night on PBC on SHOWTIME.
Kiko Martinez Fights
May 18, 2019 • Barclays Center, Brooklyn, New York
Gary Russell WINS against Kiko Martinez by TKO in Round 5 of 12
Oct 27, 2018 • Polideportivo Fernando Martin, Fuenlabrada, Comunidad de Madrid, Spain
Marc Vidal LOSES to Kiko Martinez by UD in Round 12 of 12
Draw

vs

Marc

Vidal

11-1-4
May 19, 2018 • Pabellon Esperanza Lag, Elche, Comunidad Valenciana, Spain
Marc Vidal DRAWS with Kiko Martinez by TD in Round 3 of 12
Win

vs

Lorenzo

Parra

32-12-2
Aug 26, 2017 • Plaza de Toros, Benidorm, Comunidad Valenciana, Spain
Kiko Martinez WINS against Lorenzo Parra by KO in Round 3 of 8
Win

vs

Franklin

Varela

22-33-0
Jul 14, 2017 • Palacio de los Deportes, Benidorm, Comunidad Valenciana, Spain
Kiko Martinez WINS against Franklin Varela by TKO in Round 4 of 8
LOSS

vs

Josh

Warrington

24-0-0
May 13, 2017 • First Direct Arena, Leeds, Yorkshire, United Kingdom
Josh Warrington WINS against Kiko Martinez by MD in Round 12 of 12
Win

vs

Leonel

Hernandez

10-16-2
Nov 25, 2016 • Palacio de los Deportes, Gijon, Principado de Asturias, Spain
Kiko Martinez WINS against Leonel Hernandez by PTS in Round 8 of 8
Draw

vs

Eusebio

Osejo

28-17-2
Jul 23, 2016 • Palacio de los Deportes, Benidorm, Comunidad Valenciana, Spain
Kiko Martinez DRAWS with Eusebio Osejo by SD in Round 8 of 8
Feb 27, 2016 • Honda Center, Anaheim, California
Leo Santa Cruz WINS against Kiko Martinez by TKO in Round 5 of 12
Win

vs

Miguel

Gonzalez

13-4-0
Dec 12, 2015 • Palau Olímpic Vall d'Hebron, Barcelona, Cataluña, Spain
Kiko Martinez WINS against Miguel Gonzalez by TKO in Round 4 of 8
Win

vs

Everth

Briceno

35-12-2
Nov 14, 2015 • Gran Canaria Arena, Las Palmas, Islas Canarias, Spain
Kiko Martinez WINS against Everth Briceno by UD in Round 8 of 8
Win

vs

Herald

Molina

18-12-3
Oct 23, 2015 • Pabellón Pilar Fernández Valderrama, Valladolid, Castilla y León, Spain
Kiko Martinez WINS against Herald Molina by KO in Round 1 of 8
LOSS

vs

Scott

Quigg

30-0-2
Jul 18, 2015 • Manchester Arena (formerly M.E.N Arena), Manchester, Lancashire, United Kingdom
Scott Quigg WINS against Kiko Martinez by TKO in Round 2 of 12
Win

vs

Giorgi

Gachechiladze

16-15-1
Dec 12, 2014 • Palau Olímpic Vall d'Hebron, Barcelona, Cataluña, Spain
Kiko Martinez WINS against Giorgi Gachechiladze by TKO in Round 2 of 8
Win

vs

Hozumi

Hasegawa

33-4-0
Apr 23, 2014 • Osaka-Jo Hall, Osaka, Osaka, Japan
Kiko Martinez WINS against Hozumi Hasegawa by TKO in Round 7 of 12
Win

vs

Jeffrey

Mathebula

27-4-2
Dec 21, 2013 • Pabellon Esperanza Lag, Elche, Comunidad Valenciana, Spain
Kiko Martinez WINS against Jeffrey Mathebula by KO in Round 9 of 12
WIN

vs

Jhonatan

Romero

23-0-0
Aug 17, 2013 • Revel Resort, Atlantic City, New Jersey, USA
Jhonatan Romero LOSES to Kiko Martinez by TKO in Round 6 of 12
Win

vs

Damian David

Marchiano

18-9-1
Apr 27, 2013 • Club Atlético Vélez Sarsfield, Buenos Aires, Distrito Federal, Argentina
Kiko Martinez WINS against Damian David Marchiano by TKO in Round 2 of 8
Win

vs

Dougie

Curran

5-13-2
Jul 21, 2012 • Emerald Roadhouse, Finaghy Road North, Belfast, Northern Ireland, United Kingdom
Kiko Martinez WINS against Dougie Curran by PTS in Round 6 of 6
Win

vs

Arsen

Martirosyan

18-4-0
Mar 09, 2012 • Palais des Sports de Gerland, Lyon, Rhône, France
Kiko Martinez WINS against Arsen Martirosyan by TKO in Round 12 of 12
Win

vs

Jason

Booth

36-6-0
Apr 15, 2011 • Plaza de Toros La Cubierta, Leganes, Comunidad de Madrid, Spain
Kiko Martinez WINS against Jason Booth by KO in Round 10 of 12
Win

vs

Oscar

Chacin

13-13-1
Feb 18, 2011 • Daya Nueva, Alicante, Comunidad Valenciana, Spain
Kiko Martinez WINS against Oscar Chacin by UD in Round 6 of 6
Win

vs

Arsen

Martirosyan

16-3-0
Sep 11, 2010 • National Stadium, Dublin, Ireland
Kiko Martinez WINS against Arsen Martirosyan by UD in Round 12 of 12
Win

vs

Feliciano Dario

Azuaga

77-18-2
Apr 16, 2010 • Valladolid, Castilla y León, Spain
Kiko Martinez WINS against Feliciano Dario Azuaga by TKO in Round 3 of 12
Win

vs

Said

Chichti

1-3-2
Dec 11, 2009 • Daya Nueva, Alicante, Comunidad Valenciana, Spain
Kiko Martinez WINS against Said Chichti by KO in Round 1 of 6
LOSS

vs

Takalani

Ndlovu

29-5-0
Sep 25, 2009 • Nasrec Indoor Arena, Johannesburg, Gauteng, South Africa
Takalani Ndlovu WINS against Kiko Martinez by UD in Round 12 of 12
LOSS

vs

Rendall

Munroe

17-1-0
Feb 27, 2009 • Metrodome, Barnsley, Yorkshire, United Kingdom
Rendall Munroe WINS against Kiko Martinez by UD in Round 12 of 12
Win

vs

Gheorghe

Ghiompirica

8-43-0
Dec 18, 2008 • Dublin City University, Dublin, Ireland
Kiko Martinez WINS against Gheorghe Ghiompirica by PTS in Round 6 of 6
Aug 12, 2008 • Plaza de Toros, Benidorm, Comunidad Valenciana, Spain
Kiko Martinez WINS against Silviu Lupu by TKO in Round 1 of 10
Jul 05, 2008 • National Basketball Arena, Dublin, Ireland
Kiko Martinez WINS against Lante Addy by PTS in Round 8 of 8
Loss

vs

Rendall

Munroe

13-1-0
Mar 07, 2008 • Harvey Hadden Leisure Centre, Nottingham, Nottinghamshire, United Kingdom
Kiko Martinez LOSES to Rendall Munroe by MD in Round 12 of 12
WIN

vs

Bernard

Dunne

24-0-0
Aug 25, 2007 • The Point, Dublin, Ireland
Bernard Dunne LOSES to Kiko Martinez by TKO in Round 1 of 12
Win

vs

Andrei

Florin

1-16-0
Mar 30, 2007 • Pabellon Municipal, Catral, Comunidad Valenciana, Spain
Kiko Martinez WINS against Andrei Florin by TKO in Round 1 of 8
Win

vs

Edison

Torres

40-25-4
Dec 15, 2006 • Dolores, Comunidad Valenciana, Spain
Kiko Martinez WINS against Edison Torres by UD in Round 8 of 8
Jul 14, 2006 • Alicante, Comunidad Valenciana, Spain
Kiko Martinez WINS against John Bikai by PTS in Round 12 of 12
Win

vs

Andrei

Florin

1-9-0
May 26, 2006 • Dolores, Comunidad Valenciana, Spain
Kiko Martinez WINS against Andrei Florin by TKO in Round 3 of 6
WIN

vs

Salem

Bouaita

16-11-0
Mar 10, 2006 • Pabellon de Elche, Elche, Comunidad Valenciana, Spain
Salem Bouaita LOSES to Kiko Martinez by UD in Round 10 of 10
Nov 25, 2005 • Dolores, Comunidad Valenciana, Spain
Kiko Martinez WINS against Peter Balaz by KO in Round 1 of 6
Win

vs

Manuel

Sequera

7-6-0
Oct 14, 2005 • Dolores, Comunidad Valenciana, Spain
Kiko Martinez WINS against Manuel Sequera by KO in Round 2 of 6
Win

vs

Manuel

Gomes

10-21-1
Jul 15, 2005 • Benidorm, Comunidad Valenciana, Spain
Kiko Martinez WINS against Manuel Gomes by KO in Round 4 of 12
Win

vs

Sergei

Nikitin

0-3-0
May 06, 2005 • Alicante, Comunidad Valenciana, Spain
Kiko Martinez WINS against Sergei Nikitin by TKO in Round 2 of 8
Win

vs

Frederic

Bonifai

28-19-3
Mar 04, 2005 • Leon, Castilla y León, Spain
Kiko Martinez WINS against Frederic Bonifai by TKO in Round 2 of 8
Win

vs

Nikolai

Mihailov

3-8-0
Feb 04, 2005 • Alcala de Henares, Comunidad de Madrid, Spain
Kiko Martinez WINS against Nikolai Mihailov by TKO in Round 4 of 6
Win

vs

Julio

Vargas

2-4-1
Nov 19, 2004 • Torrevieja, Comunidad Valenciana, Spain
Kiko Martinez WINS against Julio Vargas by TKO in Round 4 of 6
Win

vs

Juan Garcia

Martin

12-1-0
Oct 15, 2004 • Pozuelo de Alarcon, Comunidad de Madrid, Spain
Kiko Martinez WINS against Juan Garcia Martin by TKO in Round 3 of 6
Win

vs

Cristiano Andres

Oliveira

0-0-0
Sep 10, 2004 • Madrid, Comunidad de Madrid, Spain
Kiko Martinez WINS against Cristiano Andres Oliveira by KO in Round 1 of 4
Jul 24, 2004 • Benidorm, Comunidad Valenciana, Spain
Kiko Martinez WINS against Irimiea Ion by TKO in Round 3 of 4
Win

vs

David

Casero

1-0-0
Jun 11, 2004 • Plaza de Toros La Cubierta, Leganes, Comunidad de Madrid, Spain
Kiko Martinez WINS against David Casero by TKO in Round 3 of 4
Kiko
Martinez
"La Sensacion"
Weight 126 lbs

(57.27 kg)
Born

March 07, 1986

Age

33

Country

Spain

Born in

Elche, Comunidad Valenciana

Trains in

Alicante

, Comunidad Valenciana
Stance

Orthodox

Rounds Boxed

287

KO Percentage

56%

Boxing Hero