Ivan
Redkach
"El Terrible"
Weight 135 lbs (61.36 kg)
Age 34
Home Los Angeles, California, USA
Possessing a come-forward style and plenty of power, Ukrainian southpaw Ivan Redkach always excites in his pursuit of a 147-pound World Title. Read Bio
Last Fight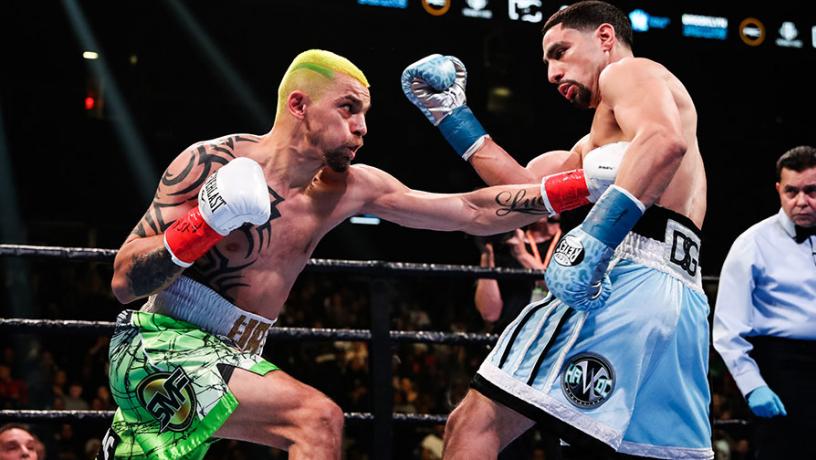 Jan 25, 2020 / Barclays Center, Brooklyn, New York
Ivan Redkach suffered a UD loss to former two-division World Champion Danny Garcia in their WBC Welterweight Title Eliminator on the PBC on SHOWTIME card at Barclays Center in Brooklyn.
Sign Up for
PBC

News

Get the latest fight announcements, fighter spotlights, and other PBC news delivered to your inbox.

Ivan Redkach News
Jan 23, 2020 / Garcia vs Redkach, Danny Garcia, Ivan Redkach
Former two-division champion Garcia wants another world title, but he must first get by an equally hungry Redkach in a welterweight showdown Saturday night on SHOWTIME.
Ivan Redkach Fights
Jan 25, 2020 • Barclays Center, Brooklyn, New York
Danny Garcia WINS against Ivan Redkach by UD in Round 12 of 12
Jun 01, 2019 • Soboba Casino Resort, San Jacinto, California
Devon Alexander LOSES to Ivan Redkach by KO in Round 6 of 10
Win

vs

Tyrone

Harris

26-13-0
Feb 16, 2019 • Microsoft Theater, Los Angeles, California, USA
Ivan Redkach WINS against Tyrone Harris by KO in Round 1 of 8
WIN

vs

Brian

Jones

14-8-0
Jun 09, 2018 • Staples Center, Los Angeles, California, USA
Brian Jones LOSES to Ivan Redkach by UD in Round 8 of 8
LOSS

vs

John Molina Jr.

30-9-0
Dec 15, 2017 • Pioneer Event Center, Lancaster, California
John Molina Jr. WINS against Ivan Redkach by KO in Round 4 of 10
May 02, 2017 • Sportsmen's Lodge Event Center, Studio City, California
Ivan Redkach LOSES to Argenis Mendez by SD in Round 10 of 10
Win

vs

Demond

Brock

13-3-1
Jan 28, 2017 • MGM Grand, Las Vegas, Nevada, USA
Ivan Redkach WINS against Demond Brock by TKO in Round 8 of 8
Loss

vs

Tevin

Farmer

21-4-1
Jul 30, 2016 • Barclays Center, Brooklyn, New York, USA
Ivan Redkach LOSES to Tevin Farmer by UD in Round 10 of 10
Apr 19, 2016 • Sands Bethlehem Event Center, Bethlehem, Pennsylvania
Ivan Redkach DRAWS with Luis Cruz by DR in Round 10 of 10
Win

vs

Erick Daniel

Martinez

13-16-1
Oct 14, 2015 • Gila River Arena, Glendale, Arizona, USA
Ivan Redkach WINS against Erick Daniel Martinez by KO in Round 3 of 10
Jun 13, 2015 • Bartow Arena, Birmingham, Alabama, USA
Ivan Redkach LOSES to Dejan Zlaticanin by TKO in Round 4 of 12
Win

vs

Yakubu

Amidu

21-5-2
Jan 09, 2015 • Morongo Casino Resort & Spa, Cabazon, California, USA
Ivan Redkach WINS against Yakubu Amidu by RTD in Round 6 of 10
Win

vs

Siarhei

Huliakevich

41-2-0
Jun 27, 2014 • Ameristar Casino, Saint Charles, Missouri, USA
Ivan Redkach WINS against Siarhei Huliakevich by UD in Round 10 of 10
Jan 17, 2014 • Cook Convention Center, Memphis, Tennessee, USA
Ivan Redkach WINS against Tony Luis by UD in Round 10 of 10
Win

vs

Lowell

Brownfield

11-9-1
Nov 08, 2013 • Ameristar Casino, Saint Charles, Missouri, USA
Ivan Redkach WINS against Lowell Brownfield by TKO in Round 3 of 8
No Contest

vs

Antonio

Sanchez

5-1-2
Sep 13, 2013 • Twin River Event Center, Lincoln, Rhode Island, USA
Ivan Redkach Antonio Sanchez by ND in Round 2 of 6
Win

vs

Sergio

Rivera

27-10-2
Feb 21, 2013 • Roseland Ballroom, New York, New York, USA
Ivan Redkach WINS against Sergio Rivera by TKO in Round 1 of 8
Win

vs

Edward

Valdez

11-8-2
Dec 19, 2012 • Roseland Ballroom, New York, New York, USA
Ivan Redkach WINS against Edward Valdez by UD in Round 8 of 8
Win

vs

Tebor

Brosch

7-3-5
Oct 24, 2012 • Roseland Ballroom, New York, New York, USA
Ivan Redkach WINS against Tebor Brosch by TKO in Round 1 of 8
Win

vs

Dedrick

Bell

7-14-0
Jun 14, 2012 • Roseland Ballroom, New York, New York, USA
Ivan Redkach WINS against Dedrick Bell by TKO in Round 1 of 6
Win

vs

Rynell

Griffin

6-8-2
Apr 27, 2012 • Buffalo Run Casino, Miami, Oklahoma, USA
Ivan Redkach WINS against Rynell Griffin by TKO in Round 1 of 8
Win

vs

Dillet

Frederick

8-4-3
Dec 30, 2011 • Morongo Casino Resort & Spa, Cabazon, California, USA
Ivan Redkach WINS against Dillet Frederick by KO in Round 4 of 6
Win

vs

Vernon

Alston

4-1-0
Sep 03, 2011 • Beau Rivage Resort & Casino, Biloxi, Mississippi, USA
Ivan Redkach WINS against Vernon Alston by TKO in Round 3 of 6
Win

vs

Alberto

Amaro

6-5-0
Jun 04, 2011 • Boardwalk Hall, Atlantic City, New Jersey, USA
Ivan Redkach WINS against Alberto Amaro by TKO in Round 6 of 6
Win

vs

Jaime

Orrantia

23-24-6
Jan 07, 2011 • Sports Center, Fairfield, California, USA
Ivan Redkach WINS against Jaime Orrantia by KO in Round 3 of 6
Win

vs

Carlos

Hernandez

3-3-2
Nov 18, 2010 • Club Nokia, Los Angeles, California, USA
Ivan Redkach WINS against Carlos Hernandez by DQ in Round 3 of 6
Win

vs

Theron

DeLorme

1-0-1
May 14, 2010 • Buffalo Bill's Star Arena, Primm, Nevada, USA
Ivan Redkach WINS against Theron DeLorme by TKO in Round 2 of 4
Mar 25, 2010 • Commerce Casino, Commerce, California, USA
Ivan Redkach WINS against John Lopez by KO in Round 3 of 4
Win

vs

Napoleon

Matthews

1-2-0
Dec 17, 2009 • Commerce Casino, Commerce, California, USA
Ivan Redkach WINS against Napoleon Matthews by TKO in Round 1 of 4
Nov 03, 2009 • Commerce Casino, Commerce, California, USA
Ivan Redkach WINS against Keith Kelly by TKO in Round 1 of 4
Ivan
Redkach
"El Terrible"
Weight 135 lbs

(61.36 kg)
Born

March 11, 1986

Age

34

Country

Ukraine

Born in

Shostka

Trains in

Los Angeles

, CA
Stance

Southpaw

Rounds Boxed

145

KO Percentage

60%

Boxing Hero