Anthony
Peterson
"Hazardous"
Weight 135 lbs (61.36 kg)
Age 36
Home Washington, District of Columbia,
After overcoming a variety of injuries, 135-pound contender Anthony Peterson is rejuvenated as he resumes his pursuit of a world championship. Read Bio
Last Fight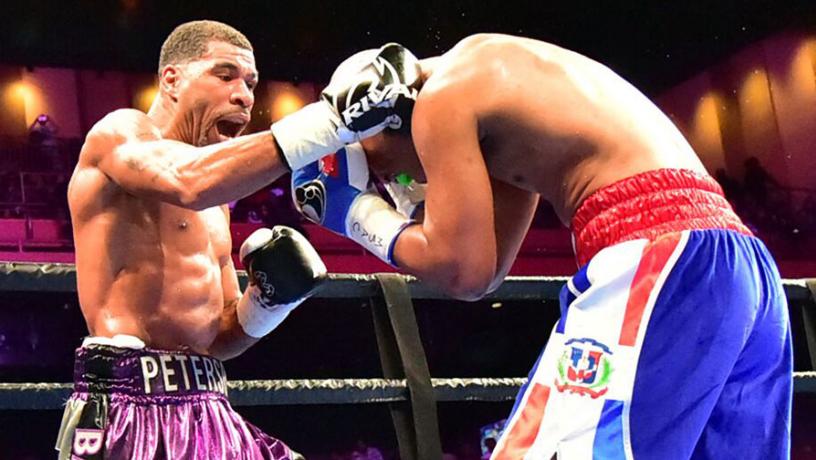 Mar 24, 2019 / MGM National Harbor, Oxon Hill, Maryland
Anthony Peterson scored a split-decision draw (96-94, 94-96, 95-95) with former World Champion Argenis Mendez.
Sign Up for
PBC

News

Get the latest fight announcements, fighter spotlights, and other PBC news delivered to your inbox.

Anthony Peterson News
Mar 23, 2019 / Anthony Peterson, Argenis Mendez
Super lightweights Anthony Peterson and Argenis Mendez could steal the show when they square off Sunday night on PBC on FS1.
Anthony Peterson Fights
Win

vs

Jairo

Lopez

27-12-0
Aug 14, 2021 • World Congress Center, Atlanta, Georgia, USA
Anthony Peterson WINS against Jairo Lopez by UD in Round 6 of 6
Mar 24, 2019 • MGM National Harbor, Oxon Hill, Maryland, USA
Anthony Peterson DRAWS with Argenis Mendez by SD in Round 10 of 10
Win

vs

Luis Eduardo

Florez

25-17-0
Jan 20, 2018 • Barclays Center, Brooklyn, New York, USA
Anthony Peterson WINS against Luis Eduardo Florez by UD in Round 10 of 10
Win

vs

Samuel Kotey

Neequaye

22-1-0
Apr 01, 2016 • DC Armory, Washington, District of Columbia, USA
Anthony Peterson WINS against Samuel Kotey Neequaye by UD in Round 10 of 10
Win

vs

Mike

Oliver

26-6-1
Oct 17, 2015 • EagleBank Arena, Fairfax, Virginia, USA
Anthony Peterson WINS against Mike Oliver by TKO in Round 1 of 10
Win

vs

Ramesis

Gil

8-11-5
Jul 11, 2015 • USF Sundome, Tampa, Florida, USA
Anthony Peterson WINS against Ramesis Gil by TKO in Round 6 of 10
Win

vs

Edgar

Riovalle

37-18-2
Aug 09, 2014 • Barclays Center, Brooklyn, New York, USA
Anthony Peterson WINS against Edgar Riovalle by KO in Round 1 of 10
Win

vs

Marcos

Jimenez

20-4-0
Mar 21, 2014 • Morongo Casino Resort & Spa, Cabazon, California, USA
Anthony Peterson WINS against Marcos Jimenez by UD in Round 10 of 10
Win

vs

Marcos Leonardo

Jimenez

20-4-0
Mar 21, 2014 • Morongo Casino Resort & Spa, Cabazon, California, USA
Anthony Peterson WINS against Marcos Leonardo Jimenez by UD in Round 10 of 10
Win

vs

Dominic

Salcido

18-4-0
May 18, 2013 • Boardwalk Hall, Atlantic City, New Jersey, USA
Anthony Peterson WINS against Dominic Salcido by TKO in Round 2 of 10
Win

vs

Daniel

Attah

26-8-1
Dec 10, 2011 • Convention Center, Washington, District of Columbia, USA
Anthony Peterson WINS against Daniel Attah by UD in Round 8 of 8
LOSS

vs

Brandon

Rios

24-0-1
Sep 11, 2010 • Palms Casino Resort, Las Vegas, Nevada, USA
Brandon Rios WINS against Anthony Peterson by DQ in Round 7 of 12
Win

vs

Juan Ramon

Cruz

16-7-1
Mar 12, 2010 • Gaylord Hotel, Grapevine, Texas, USA
Anthony Peterson WINS against Juan Ramon Cruz by TKO in Round 3 of 10
Aug 15, 2009 • Hard Rock Hotel and Casino, Las Vegas, Nevada, USA
Anthony Peterson WINS against Luis Arceo by UD in Round 10 of 10
Win

vs

Javier

Jauregui

53-14-2
Aug 02, 2008 • Palms Casino Resort, Las Vegas, Nevada, USA
Anthony Peterson WINS against Javier Jauregui by UD in Round 10 of 10
Win

vs

Fernando

Trejo

30-12-5
Jun 26, 2008 • Orleans Hotel & Casino, Las Vegas, Nevada, USA
Anthony Peterson WINS against Fernando Trejo by UD in Round 12 of 12
Win

vs

Jose Antonio

Izquierdo

17-1-1
Jan 04, 2008 • Hard Rock Casino, Biloxi, Mississippi, USA
Anthony Peterson WINS against Jose Antonio Izquierdo by TKO in Round 8 of 10
Nov 17, 2007 • Casablanca Casino, Providenciales, Turks And Caicos Islands
Anthony Peterson WINS against Oscar Leon by TKO in Round 5 of 8
Win

vs

Marteze

Logan

25-28-2
Sep 01, 2007 • Fitzgerald's Casino & Hotel, Tunica, Mississippi, USA
Anthony Peterson WINS against Marteze Logan by UD in Round 8 of 8
May 25, 2007 • DC Armory, Washington, District of Columbia, USA
Anthony Peterson WINS against Luis Jose by TKO in Round 9 of 12
Win

vs

Luis Ernesto

Jose

27-4-2
May 25, 2007 • DC Armory, Washington, District of Columbia, USA
Anthony Peterson WINS against Luis Ernesto Jose by TKO in Round 9 of 12
Win

vs

Juan Humberto

Garza

28-2-0
Jan 05, 2007 • Beau Rivage Resort & Casino, Biloxi, Mississippi, USA
Anthony Peterson WINS against Juan Humberto Garza by KO in Round 4 of 12
Win

vs

Alfred

Kotey

24-13-1
Nov 18, 2006 • Fitzgerald's Casino & Hotel, Tunica, Mississippi, USA
Anthony Peterson WINS against Alfred Kotey by UD in Round 8 of 8
Win

vs

Armando

Cordoba

21-26-2
Sep 01, 2006 • Par-A-Dice Casino, East Peoria, Illinois, USA
Anthony Peterson WINS against Armando Cordoba by UD in Round 6 of 6
Win

vs

Jose Vidal

Soto

18-3-2
Aug 04, 2006 • FedEx Forum, Memphis, Tennessee, USA
Anthony Peterson WINS against Jose Vidal Soto by KO in Round 2 of 10
Win

vs

Adan

Hernandez

14-4-0
Jun 16, 2006 • Pepsi Pavilion, Memphis, Tennessee, USA
Anthony Peterson WINS against Adan Hernandez by UD in Round 12 of 12
Win

vs

Jermaine

White

13-0-0
Apr 28, 2006 • 4 Bears Casino & Lodge, New Town, North Dakota, USA
Anthony Peterson WINS against Jermaine White by RTD in Round 3 of 8
Win

vs

Steve

Verdin

5-26-2
Mar 11, 2006 • Fitzgerald's Casino & Hotel, Tunica, Mississippi, USA
Anthony Peterson WINS against Steve Verdin by RTD in Round 3 of 6
Win

vs

Manuel

Bocanegra

6-7-1
Jan 28, 2006 • Fitzgerald's Casino & Hotel, Tunica, Mississippi, USA
Anthony Peterson WINS against Manuel Bocanegra by RTD in Round 2 of 6
Win

vs

Roy

Bohannon

12-3-0
Oct 15, 2005 • Isle of Capri Casino, Lula, Mississippi, USA
Anthony Peterson WINS against Roy Bohannon by TKO in Round 4 of 6
Win

vs

Jorge Alberto

Reyes

21-21-2
Sep 02, 2005 • Statehouse Convention Center, Little Rock, Arkansas, USA
Anthony Peterson WINS against Jorge Alberto Reyes by TKO in Round 2 of 6
Win

vs

Johnny

Walker

18-16-0
Aug 20, 2005 • Isle of Capri Casino, Biloxi, Mississippi, USA
Anthony Peterson WINS against Johnny Walker by UD in Round 6 of 6
Win

vs

Carlos

Valdez

8-5-0
Jul 26, 2005 • W.C. Handy Pavilion, Memphis, Tennessee, USA
Anthony Peterson WINS against Carlos Valdez by TKO in Round 6 of 8
Win

vs

Anthony

Middlebrooks

3-0-0
Jun 18, 2005 • FedEx Forum, Memphis, Tennessee, USA
Anthony Peterson WINS against Anthony Middlebrooks by KO in Round 1 of 6
Win

vs

Wayne

Fletcher

4-11-1
Jun 11, 2005 • MCI Center, Washington, District of Columbia, USA
Anthony Peterson WINS against Wayne Fletcher by TKO in Round 6 of 6
May 22, 2005 • Silver Star Casino, Choctaw, Mississippi, USA
Anthony Peterson WINS against Mario Lacey by KO in Round 2 of 6
Win

vs

Martin

Quiroz

2-9-0
Apr 30, 2005 • Isle Of Capri, Lula, Mississippi, USA
Anthony Peterson WINS against Martin Quiroz by TKO in Round 5 of 6
Win

vs

Michael

Moss

10-26-2
Apr 23, 2005 • Fitzgerald's Casino & Hotel, Tunica, Mississippi, USA
Anthony Peterson WINS against Michael Moss by TKO in Round 4 of 4
Win

vs

Edgar

Pedraza

1-13-3
Apr 09, 2005 • Don Haskins Convention Center, El Paso, Texas, USA
Anthony Peterson WINS against Edgar Pedraza by UD in Round 4 of 4
Win

vs

Jose Angel

Roman

4-4-2
Dec 12, 2004 • Convention Center, Washington, District of Columbia, USA
Anthony Peterson WINS against Jose Angel Roman by UD in Round 4 of 4
Nov 05, 2004 • Fitzgerald's Casino & Hotel, Tunica, Mississippi, USA
Anthony Peterson WINS against Bill Tipton by TKO in Round 1 of 4
Win

vs

Chris

Burford

5-24-1
Oct 23, 2004 • Isle of Capri Casino, Lula, Mississippi, USA
Anthony Peterson WINS against Chris Burford by KO in Round 2 of 4
Win

vs

Toris

Smith

1-15-0
Sep 25, 2004 • FedEx Forum, Memphis, Tennessee, USA
Anthony Peterson WINS against Toris Smith by TKO in Round 1 of 4
Anthony
Peterson
"Hazardous"
Weight 135 lbs

(61.36 kg)
Born

March 16, 1985

Age

36

Country

USA

Born in

Washington, District of Columbia

Trains in

Washington

, District of Columbia
Stance

Orthodox

Rounds Boxed

224

KO Percentage

58.54%

Boxing Hero