Weight 175 lbs (79.55 kg)
Age 28
Home Miami, Florida, USA
Egypt-born, Miami-bred prospect Ahmed Elbiali has shown hefty punching power as he piles up knockouts in his quest for a 175-pound world title. Read Bio
Last Fight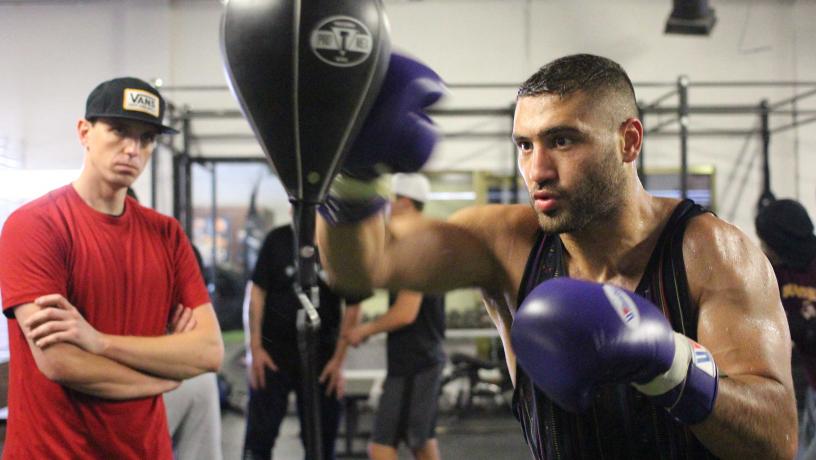 Jun 10, 2018 / Pioneer Event Center, Lancaster, California
Ahmed Elbiali bounced back from his first pro loss, scoring a third-round KO of Zoltan Sera.
Sign Up for
PBC

News

Get the latest fight announcements, fighter spotlights, and other PBC news delivered to your inbox.

Ahmed Elbiali News
Dec 7, 2017 / Ahmed Elbiali, Elbiali vs Pascal
Former light heavyweight champion Jean Pascal is looking to end his career on a high note Friday night, while unbeaten contender Ahmed Elbiali prepares to make a statement during his first main event on FS1.
Dec 7, 2017 / PBC Jabs, Ahmed Elbiali
This week on PBC Jabs, Ahmed Elbiali checks in ahead of his December 8th light heavyweight bout against Jean Pascal on FS1 and we preview the rest of that stacked fight card.
Ahmed Elbiali Fights
Win

vs

Zoltan

Sera

31-16-1
Jun 10, 2018 • Pioneer Event Center, Lancaster, California, USA
Ahmed ElbialiAA WINS against Zoltan SeraZZ by KO in Round 3 of 10
Dec 08, 2017 • Hialeah Park, Miami, Florida
Ahmed ElbialiAA LOSES to Jean PascalJJ by TKO in Round 6 of 10
Win

vs

Christopher

Brooker

12-3-0
Jul 18, 2017 • Rapides Coliseum, Alexandria, Louisiana, USA
Ahmed ElbialiAA WINS against Christopher BrookerCC by TKO in Round 2 of 10
Win

vs

Jackson

Junior

20-8-0
Mar 14, 2017 • Fitzgerald's Casino & Hotel, Tunica, Mississippi, USA
Ahmed ElbialiAA WINS against Jackson JuniorJJ by TKO in Round 1 of 8
Win

vs

Andrew

Hernandez

10-3-1
Jan 12, 2016 • Cowboys Dance Hall, San Antonio, Texas, USA
Ahmed ElbialiAA WINS against Andrew HernandezAA by UD in Round 8 of 8
Win

vs

Mariano

Hilario

12-3-0
Oct 13, 2015 • Little Creek Casino Resort, Shelton, Washington, USA
Ahmed ElbialiAA WINS against Mariano HilarioMM by UD in Round 8 of 8
Win

vs

Fabiano

Pena

12-2-1
Sep 08, 2015 • Hollywood Palladium, Hollywood, California, USA
Ahmed ElbialiAA WINS against Fabiano PenaFF by KO in Round 1 of 8
Jun 13, 2015 • Bartow Arena, Birmingham, Alabama, USA
Ahmed ElbialiAA WINS against Donta WoodsDD by KO in Round 1 of 8
Win

vs

Dustin Craig

Echard

10-0-0
Feb 06, 2015 • Beau Rivage Resort & Casino, Biloxi, Mississippi, USA
Ahmed ElbialiAA WINS against Dustin Craig EchardDD by TKO in Round 2 of 6
Win

vs

Lawrence

Blakey

2-2-0
Dec 11, 2014 • Pechanga Resort & Casino, Temecula, California, USA
Ahmed ElbialiAA WINS against Lawrence BlakeyLL by KO in Round 3 of 4
Win

vs

Dakota

Dawson

3-0-0
Oct 08, 2014 • Beau Rivage Resort & Casino, Biloxi, Mississippi, USA
Ahmed ElbialiAA WINS against Dakota DawsonDD by TKO in Round 1 of 4
Win

vs

Dwayne

Williams

5-3-0
Aug 22, 2014 • Pechanga Resort & Casino, Temecula, California, USA
Ahmed ElbialiAA WINS against Dwayne WilliamsDD by KO in Round 1 of 4
Win

vs

Yuwshua

Zadok

2-1-1
Jun 07, 2014 • Casino Miami Jai Alai, Miami, Florida, USA
Ahmed ElbialiAA WINS against Yuwshua ZadokYY by KO in Round 4 of 4
Win

vs

Steven

Chadwick

2-5-0
May 01, 2014 • Hialeah Park Race Track, Hialeah, Florida, USA
Ahmed ElbialiAA WINS against Steven ChadwickSS by TKO in Round 1 of 4
Win

vs

Harold

Smith

0-0-0
Jan 18, 2014 • Casino Miami Jai Alai, Miami, Florida, USA
Ahmed ElbialiAA WINS against Harold SmithHH by TKO in Round 1 of 4
Win

vs

Jerrod

Caldwell

2-3-1
Aug 10, 2013 • Casino Miami Jai Alai, Miami, Florida, USA
Ahmed ElbialiAA WINS against Jerrod CaldwellJJ by TKO in Round 3 of 4
Win

vs

Pernell

Mitchell

0-0-0
Feb 22, 2013 • Community Center, Palm Bay, Florida, USA
Ahmed ElbialiAA WINS against Pernell MitchellPP by KO in Round 1 of 4
Weight 175 lbs

(79.55 kg)
Born

October 01, 1990

Age

28

Country

Egypt

Born in

Cairo

Trains in

Miami

, FL
Stance

Orthodox

Rounds Boxed

53

KO Percentage

78%

Boxing Hero