Weight 154 lbs (70 kg)
Age 27
Home Accokeek, Maryland,
Possessing both solid boxing skills and knockout power, unbeaten Maryland native Jarrett Hurd is working his way up the 154-pound division. Read Bio
Last Fight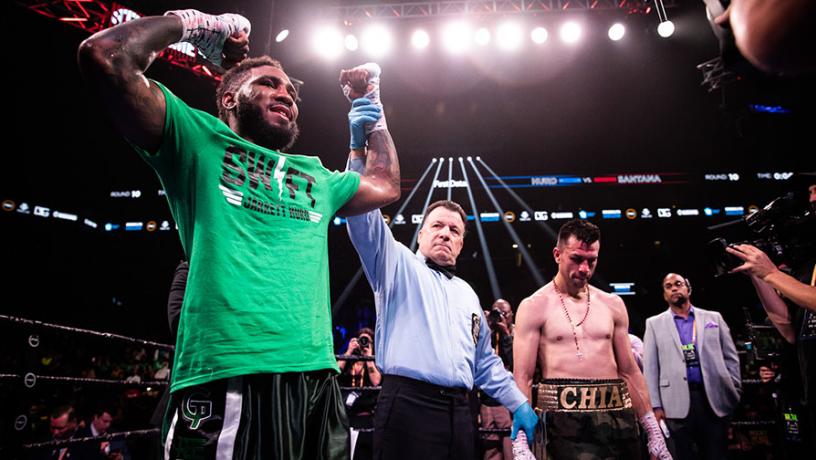 Apr 07, 2018 / The Joint at Hard Rock Hotel & Casino, Las Vegas, Nevada
Unbeaten Jarrett Hurd became a 154-pound unified champion by scoring a split decision victory over Erislandy Lara in Las Vegas.
Sign Up for
PBC

News

Get the latest fight announcements, fighter spotlights, and other PBC news delivered to your inbox.

Jarrett Hurd News
Apr 9, 2018 / Jarrett Hurd, Erislandy Lara, Jermell Charlo, Lara vs Hurd
After scoring the biggest win of his career Saturday night over long-reigning 154-pound champion Erislandy Lara, Jarrett Hurd ready to get right back in the ring for another title unification against WBC titleholder Jermell Charlo.
Apr 5, 2018 / Erislandy Lara, Jarrett Hurd, Lara vs Hurd
A 154-pound title unification between a Cuban master boxer and one of the sport's most powerful knockout artists should provide plenty of intrigue this Saturday night on Showtime.
Jarrett Hurd Fights
Apr 07, 2018 • The Joint at Hard Rock Hotel & Casino, Las Vegas, Nevada
Erislandy Lara LOSES to Jarrett Hurd by SD in Round 12 of 12
Oct 14, 2017 • Barclays Center, Brooklyn, New York
Jarrett Hurd WINS against Austin Trout by TKO in Round 10 of 12
Feb 25, 2017 • Legacy Arena, Birmingham, Alabama
Tony Harrison LOSES to Jarrett Hurd by TKO in Round 9 of 12
Win

vs

Ionut Dan

Ion

35-3-0
Nov 12, 2016 • Liacouras Center, Philadelphia, Pennsylvania, USA
Jarrett Hurd WINS against Ionut Dan Ion by TKO in Round 6 of 10
Win

vs

Oscar

Molina

13-0-1
Jun 25, 2016 • Barclays Center, Brooklyn, New York, USA
Jarrett Hurd WINS against Oscar Molina by TKO in Round 10 of 10
Win

vs

Frank

Galarza

17-0-2
Nov 14, 2015 • Hard Rock Hotel and Casino, Las Vegas, Nevada, USA
Jarrett Hurd WINS against Frank Galarza by TKO in Round 6 of 10
Aug 14, 2015 • Prudential Center, Newark, New Jersey, USA
Jarrett Hurd WINS against Jeff Lentz by TKO in Round 7 of 8
Win

vs

Eric

Mitchell

23-11-2
Apr 18, 2015 • Valley Forge Casino and Resort, Valley Forge, Pennsylvania, USA
Jarrett Hurd WINS against Eric Mitchell by TKO in Round 3 of 8
Win

vs

Emmanuel

Sanchez

5-1-0
Dec 05, 2014 • Harrah's Philadelphia, Chester, Pennsylvania, USA
Jarrett Hurd WINS against Emmanuel Sanchez by MD in Round 6 of 6
Nov 01, 2014 • Constitution Hall, Washington, District of Columbia, USA
Jarrett Hurd WINS against Terry Cade by KO in Round 1 of 6
Win

vs

Joshua

Robertson

6-5-0
Jun 13, 2014 • Rosecroft Raceway, Fort Washington, Maryland, USA
Jarrett Hurd WINS against Joshua Robertson by TKO in Round 1 of 6
Win

vs

Chris

Chatman

11-2-1
Jan 17, 2014 • Rosecroft Raceway, Fort Washington, Maryland, USA
Jarrett Hurd WINS against Chris Chatman by SD in Round 6 of 6
Win

vs

George

Armenta

14-10-0
Dec 06, 2013 • Rosecroft Raceway, Fort Washington, Maryland, USA
Jarrett Hurd WINS against George Armenta by KO in Round 2 of 6
Win

vs

Frank

Gedeon

4-0-2
Oct 18, 2013 • Rosecroft Raceway, Fort Washington, Maryland, USA
Jarrett Hurd WINS against Frank Gedeon by UD in Round 6 of 6
Win

vs

Issa

Coulibaly

1-4-0
Aug 10, 2013 • Convention Center, Washington, District of Columbia, USA
Jarrett Hurd WINS against Issa Coulibaly by KO in Round 3 of 4
Win

vs

Joshua

Burns

4-15-7
Jul 13, 2013 • Rosecroft Raceway, Fort Washington, Maryland, USA
Jarrett Hurd WINS against Joshua Burns by TKO in Round 2 of 6
Win

vs

Greg

Hackett

2-10-0
Apr 20, 2013 • Show Place Arena, Upper Marlboro, Maryland, USA
Jarrett Hurd WINS against Greg Hackett by UD in Round 6 of 6
Win

vs

Thomas

Baldwin

2-0-2
Mar 02, 2013 • Rosecroft Raceway, Fort Washington, Maryland, USA
Jarrett Hurd WINS against Thomas Baldwin by UD in Round 4 of 4
Win

vs

Trenton

Titsworth

5-14-1
Jan 12, 2013 • Rosecroft Raceway, Fort Washington, Maryland, USA
Jarrett Hurd WINS against Trenton Titsworth by UD in Round 4 of 4
Win

vs

Anthony

Jones

0-5-0
Dec 08, 2012 • Convention Center, Washington, District of Columbia, USA
Jarrett Hurd WINS against Anthony Jones by KO in Round 1 of 4
Nov 03, 2012 • Convention Center, Washington, District of Columbia, USA
Jarrett Hurd WINS against Coy Lanbert by KO in Round 4 of 4
Sep 29, 2012 • Convention Center, Washington, District of Columbia, USA
Jarrett Hurd WINS against Mike Arnold by TKO in Round 1 of 4
Born

August 31, 1990

Age

27

Country

USA

Born in

Accokeek, MD

Trains in

Accokeek

, MD
Stance

Orthodox

Rounds Boxed

110

KO Percentage

68%

Boxing Hero