Fabian Andres
Maidana
"TNT"
Weight 147 lbs (66.82 kg)
Age 26
Home Jose Leon Suarez, Buenos Aires, ARG
The younger brother of former champion Marcos Maidana, 147-pound prospect Fabian Maidana is looking to carve out his own legacy in the ring. Read Bio
Last Fight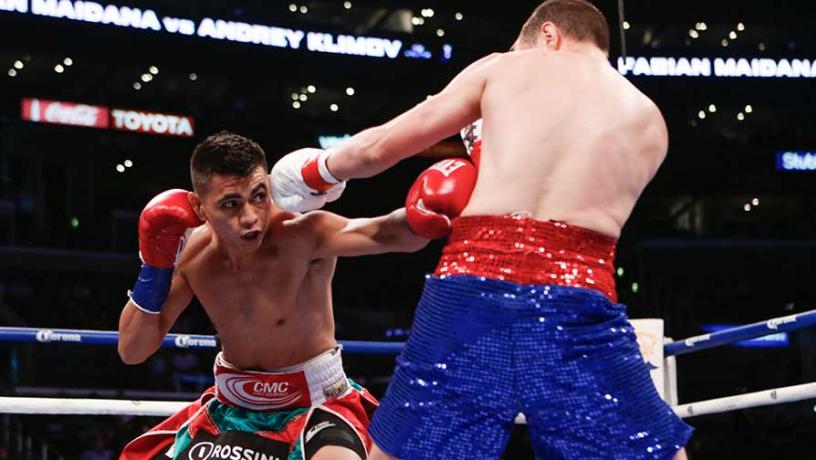 Jul 28, 2018 / Staples Center, Los Angeles, California
Super lightweight prospect Fabian Maidana kept his record perfect, scoring a seventh-round stoppage of former world title challenger Andrey Klimov.
Sign Up for
PBC

News

Get the latest fight announcements, fighter spotlights, and other PBC news delivered to your inbox.

Fabian Maidana News
Jul 17, 2018 / Fabian Maidana
The younger brother of former welterweight champion Marcos "El Chino" Maidana is quickly rising up the welterweight ranks, but he's looking to create a style all his own.
Jul 24, 2016 / Maidana vs Maysonet, Fabian Maidana, Jorge Maysonet
Sometimes boxers need to absorb a hard fist to the face in order to wake up and start executing their game plan. Such seemed to be the case with Fabian Maidana on Saturday night.
Fabian Maidana Fights
Win

vs

Andrey

Klimov

20-4-0
Jul 28, 2018 • Staples Center, Los Angeles, California, USA
Fabian Andres Maidana WINS against Andrey Klimov by KO in Round 7 of 10
Win

vs

Justin

Savi

31-15-2
Apr 21, 2018 • Barclays Center, Brooklyn, New York, USA
Fabian Andres Maidana WINS against Justin Savi by TKO in Round 3 of 8
Win

vs

Johan

Perez

22-4-2
Nov 01, 2017 • La Macarena, Medellin, Colombia
Fabian Andres Maidana WINS against Johan Perez by UD in Round 10 of 10
Win

vs

Pedro

Verdu

19-15-3
Jun 17, 2017 • Microestadio Municipal, Hurlingham, Buenos Aires, Argentina
Fabian Andres Maidana WINS against Pedro Verdu by KO in Round 4 of 10
Win

vs

Elias Leandro

Vallejos

20-6-1
Mar 17, 2017 • Club Social y Deportivo El Porvenir, Quilmes, Buenos Aires, Argentina
Fabian Andres Maidana WINS against Elias Leandro Vallejos by TKO in Round 2 of 10
Win

vs

Cristian Nestor

Romero

16-8-1
Nov 26, 2016 • Estadio Polideportivo Presidente Perón, Gonzalez Catan, Buenos Aires, Argentina
Fabian Andres Maidana WINS against Cristian Nestor Romero by TKO in Round 2 of 10
Jul 23, 2016 • Scottish Rite Auditorium, San Antonio
Fabian Maidana WINS against Jorge Maysonet by TKO in Round 7 of 8
Win

vs

Jorge

Maysonet Jr

13-1-0
Jul 23, 2016 • Scottish Rite Theatre, San Antonio, Texas, USA
Fabian Andres Maidana WINS against Jorge Maysonet Jr by RTD in Round 6 of 8
Fabian Andres
Maidana
"TNT"
Weight 147 lbs

(66.82 kg)
Born

June 22, 1992

Age

26

Country

Argentina

Born in

Margarita, Santa Fe

Trains in

Jose Leon Suarez

, Buenos Aires
Stance

Orthodox

Rounds Boxed

62

KO Percentage

75%

Boxing Hero